Employee Feature: Cameron Wilson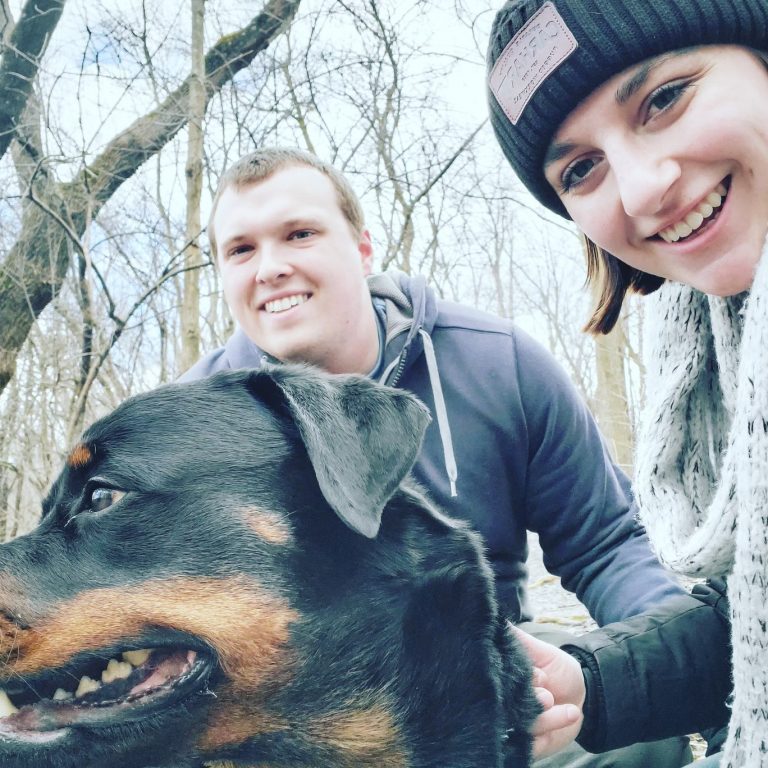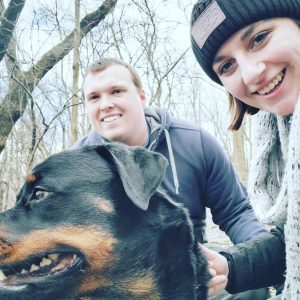 [3/25/2021] If you haven't met him already, we would like to introduce you to Cameron Wilson. Cameron is part of our fiber installation team, and also does a lot of splicing. This means Cameron is responsible for connecting our customers to our speedy fast fiber.
Cameron was born and raised right here in Owosso where he was homeschooled all through high school and met his wife, Rachel (pictured). In his free time, Cameron enjoys spending time with his wife, dog, and family.
"My favorite part about working at DayStarr is the camaraderie between myself and my co-workers. I also appreciate how the team not only cares about my work as an employee at DayStarr but also values my personal life. I have seen very few companies that care about their employees and customers the way DayStarr does," stated Cameron
We are happy to have Cameron as a valued member of the DayStarr team!
Safe Online Messaging Apps for Kids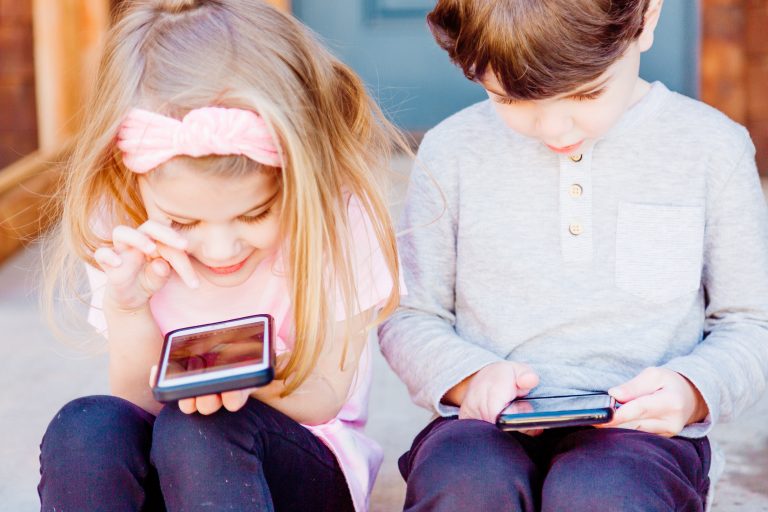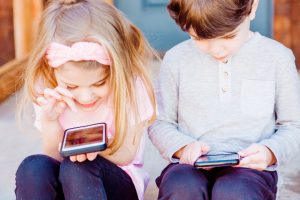 [3/25/2021] Our children are growing up in the digital age, surrounded by technology in all its wonder—and danger. While there are plenty of good reasons to embrace technology, it represents a significant risk for children, who can easily get lured by online predators.
Apps like Facebook Messenger, Twitter, and Instagram were not designed with kids in mind. Parental controls aside, most kids are savvy enough to get around them if they want. Privacy and protection from harmful content are the biggest concerns. Fortunately, there are several kid-friendly messaging apps that combine safety, accountability, and parental monitoring to give your children what they want in a parent-approved package.
Here are a few ideas for child-friendly messaging and chat apps:
Messenger Kids
Messenger Kids delivers the Messenger experience to your children in a safe, parent-controlled environment. Parents create their kids' accounts, control their contact lists, and review content through the customizable parent dashboard. Kids can also block and report users themselves, which instantly notifies the parents. There are no in-app purchases or ads to worry about, and users have all the features, stickers, GIFs, emojis, and creative tools they need to express themselves fully.
Kinzoo (6+)
Kinzoo promises a superior experience over Messenger Kids, and as a COPPA-certified app, you can be confident of their commitment to safety. Kinzoo offers a complete range of messaging functionality, including voice, text, video, images, emojis, and pretty much everything they need to get their points across. The video chat features a time-limited setting to encourage more meaningful connections, and overall it's a great—and safe—online experience for children six and up.
Blinx (8+)
The Blinx app calls itself "kindergarten for social media," as its mission, essentially, is to give children a controlled environment to learn the joys of online social interaction without the worry. Only your selected "in-crowd" can send messages or share photos, videos, and vemos (voice memos), and your kid can send their own instantly with a single click. Data privacy is assured because messages are only stored on your in-crowd's devices. If the message isn't downloaded, it's deleted from Blinx's servers for good.
JusTalk Kids
JusTalk Kids gives your children all the fun calling and messaging features they'll love in a safe environment. One nice bonus is that since it works over Wi-Fi, you don't need a phone number to get the most out of it; in other words, you can repurpose an older phone that's not locked to a number or provider. Your kid will enjoy doodles, stickers, games, group chats and calls, and easy connections to family members who already have a JusTalk account. One caveat – it's a paid app, either by subscription or a one-time fee, but there are plenty of cool features to justify the expense, and they do offer a three-day trial, so you can see what it's all about.
If your children are clamoring for social connection, there are plenty of safe, controllable, and fun ways to satisfy their needs. Just make sure to look for apps that prioritize privacy and give you the level of control and oversight you feel comfortable with.
Newly Completed in Our Network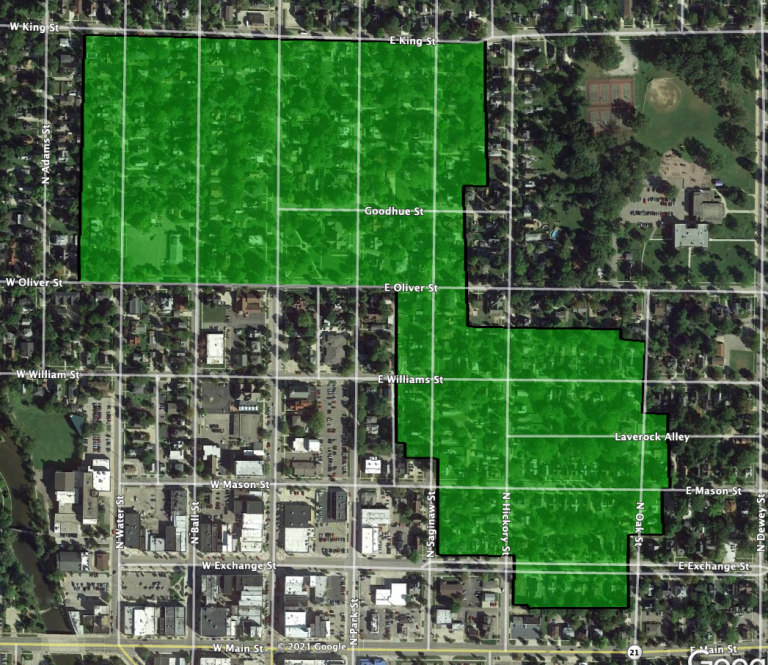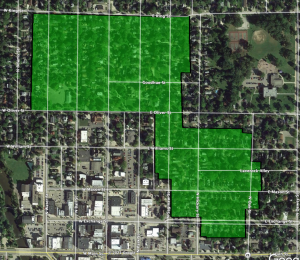 [3/25/2021] We have just completed what we call SC10. This area borders at E King St. to the north then follows N Water St. to the west, tracking down E Oliver St as a southern border until we reach N Saginaw St. and then we track south again to E Exchange St. The eastern border fills into the area that we completed around Emerson School back on 10/15/2020. Roughly using Oak St as a border until reaching E Oliver St where N Saginaw becomes the eastern border.
We are signing up new customers up in this area now! If you or someone you know lives within this area, let them know that they can now get DayStarr Fiber!!
Next, we will be working on what we call SC19. SC19 is our first Fiber Service Area on the southern side of town. Building in the general area of Bryant School will be our area of focus for 2021. The first area will pick up our feed at Stewart St, using Michigan Ave and S Shiawassee St. as an eastern border, tracking down to W South St. for a south border. S Cedar St. acts as a western border for this first area and runs the full length north to the railroad tracks as our northern border. We plan for this area to be complete this June and we'll start taking signups for this area at the beginning of the summer.
Cleaning Your Devices – Inside and Out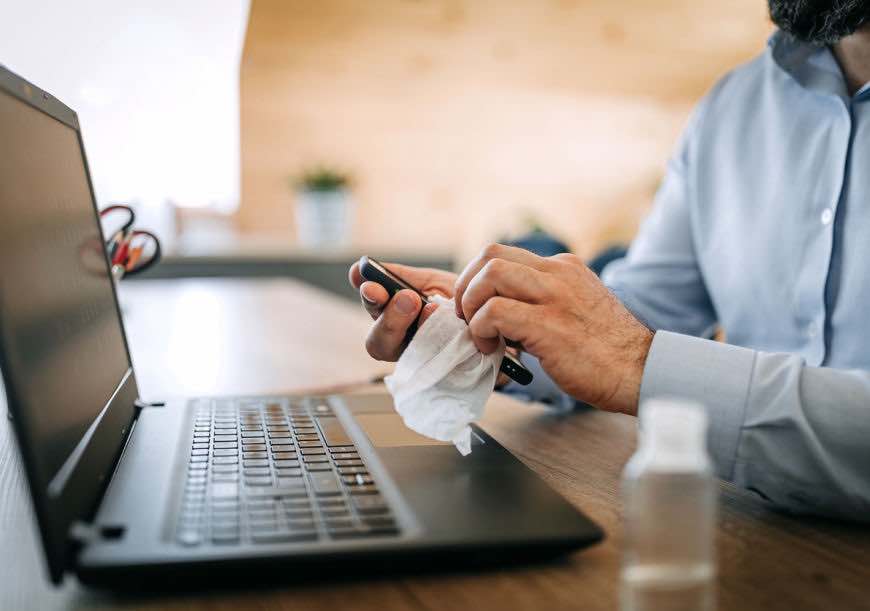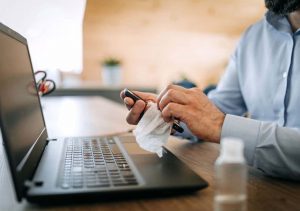 [3/25/2021] Spring is just around the corner, and you know what that means. It's time for spring cleaning! When we think of spring cleaning, we typically think about dusting, vacuuming, mopping, and generally turning our homes inside out. But with the amount that we use our electronics, they could use a thorough scrub. So today, we're going to talk about how you can spring clean your devices, both inside and out.
Exterior Device Cleaning
When cleaning, stay away from abrasive materials such as paper and fabric towels. To wipe your electronics, go with a soft, lint-free cloth, like those used to clean eyeglasses.
Do not use liquids to clean your devices unless explicitly stated in the care manual. That includes water and liquid cleaners like bleach and other corrosive fluids. Getting liquid in any of your devices' openings can cause damage, especially to the speakers, headphone jack, or charging port. It's also best to avoid aerosol sprays like Lysol air freshener – however, aerosol air compressors, or 'air in a can' can be an effective way to clear the dust out of your devices' nooks and crannies.
If you need to use a gentle cleaner—ideally one formulated for use on electronics—do not spray it directly onto your device. Spray the cleanser onto your soft cloth, and then gently wipe the device. When you clean, be sure to disconnect all wires, cables, and external power sources to your device.
If you feel the need to disinfect your phone or laptop, it is acceptable to use a 70% isopropyl alcohol wipe or a Clorox Disinfecting Wipe to clean the non-porous exterior surfaces of your device
Interior Device Cleaning
Scrubbing the inside of your devices is a little more complicated than merely spritzing and wiping. Before you begin clearing out your desktop, start by backing up your data. You can back up everything or pick and choose what you want to keep. Depending on your preferences, you can then export your data to the cloud or save it to an external hard drive.
Once everything is secure and backed up, you can start organizing and decluttering. Even if you accidentally delete something you still need, you can rest easy knowing that all your data is saved elsewhere. Having an overcrowded desktop can cause your computer to run slowly, so it's a good practice to keep everything neat and tidy. The same goes for your email. Go through your emails regularly, delete what you don't need, and organize the rest into files and subfiles.
Many devices run apps in the background, even if you don't use them. You may not even notice this is happening, but it can cause your device to run slower. Learn how to prevent infrequently used apps from starting up when you use your device, and for even more efficiency, disable those that you don't use.
Your cleaning efforts, plus fast and reliable internet from DayStarr will keep your devices running more quickly and smoothly.
New and Improved Online Services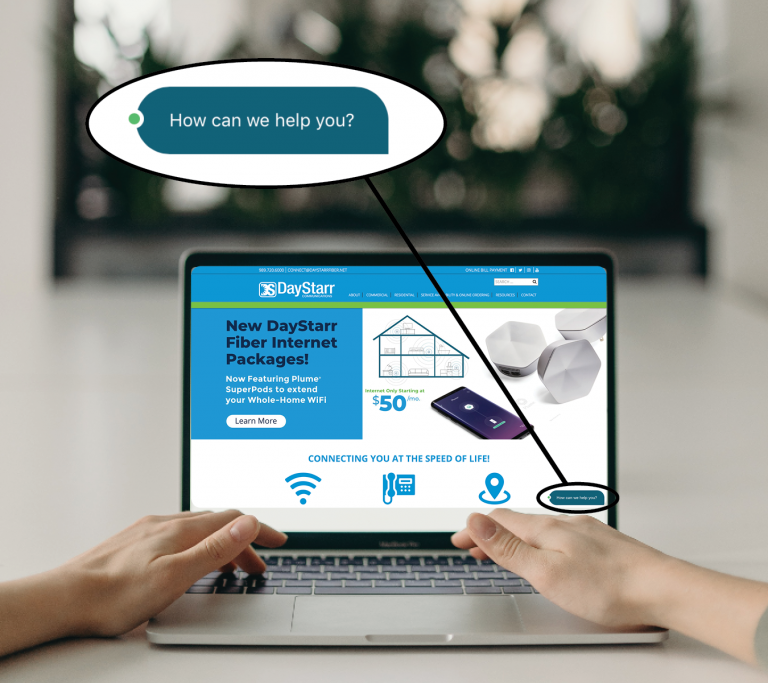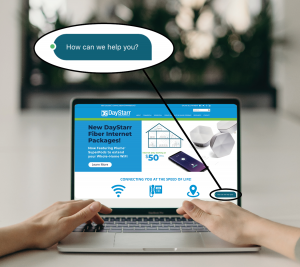 [3/25/2021] This year has already seen some exciting growth and new features for our company and team! One of those things being, online signups. From our website, new customers can now check their availability and if service is indeed available, they can sign up right then and there. This opens a ticket in our systems which then notifies our team to get them on our install calendar. We also added online scheduling as well!
We are looking forward to the efficiency of online sign-ups. This feature will be convenient for new customers and saving them time. Since we launched it just a couple of weeks ago, we have already seen multiple signups while we slept. How great is that? We sleep, and you sign-up!
Another new and exciting online service is our online chat support. This chat is accessed through a bubble on the bottom right corner of our website and connects you directly with our team. This chat is great for any internet questions and quick troubleshooting if needed. We are currently monitoring this chat between 8:30am and 4:30pm, Monday through Friday.
Any new or existing customer is more than welcome to still call the office and talk to a team member if wanted or needed. Our personal touch is not going away.
Employee Community Service Program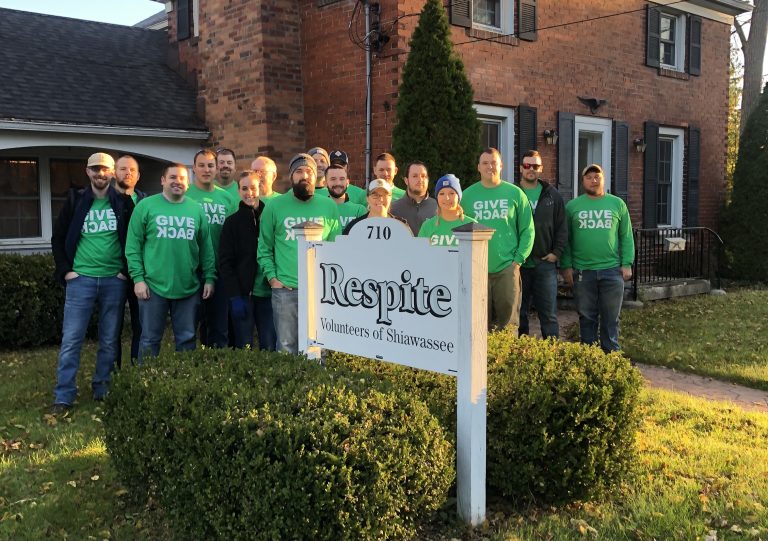 [3/25/2021] DayStarr as a whole has always been committed to serving our community. Both by providing excellent service and by volunteering when we can. That is why we are happy to announce the launch of our Employee Community Service Program.
Here's how this exciting employee program works. Anytime a full-time employee volunteers in Owosso or surrounding communities, they can submit a form to their supervisor. The hours volunteered then earn said employee extra vacation time. Who doesn't love that?! These volunteer hours can be earned on nights and weekends, or during business hours with supervisor approval. Each employee is eligible for up to 8 earned hours of community service time, each year!
This being said, our annual Give Back Day is not going away. We still have plans for this event to take place every summer/fall. This annual, all-day event is an opportunity for our team to volunteer together as a whole. A fun day out of the office, team building, and community service all wrapped into one event. Our new program will add to our company's community involvement as well as allow and encourage employees to volunteer in our wonderful community more often.
Create Your Perfect Streaming Setup
Ready to boost your internet speed with DayStarr Fiber, if you haven't already, and leave video buffering behind for good? It will open up a whole new world of streaming possibilities that can complement your existing cable package or let you cut the cord entirely.
But which streaming set-up is right for you? The many choices can be daunting. Read on to create a custom streaming portfolio.
Netflix: The gold standard for those who love movies
Netflix, a pioneer in made-for-streaming television, has managed to hang onto its throne and is well worth the $9 to $17 you'll pay monthly. Many streamers believe that no setup would be complete without this staple. Why?
In recent years, the streaming giant has put an increasing emphasis on original programming — and it has paid off, resulting in some of the most celebrated, original content. The service now boasts more than 100 original movies and shows along with a streaming catalog that would literally take years to view in its entirety.
No matter what genres you're into, Netflix has you covered, from episodic shows like Ozark, Stranger Things and Orange is the New Black to riveting documentaries like Tiger King, Unsolved Mysteries and Lennox Hill to original movies including The Irishman and The Two Popes.
There are, of course, pluses and minuses to Netflix:
Thumbs up: Netflix supports HDR video, streams in 4K and its content can be watched offline on mobile devices. So you can finish that show you started last night on your commute to work.
Thumbs down: Netflix doesn't offer live TV or sports.
Hulu: For the budget-conscious streamer who binges TV shows
That's not to say that Netflix is for everyone. A budget-conscious alternative is Hulu with prices starting at $6 per month. Hulu's niche is offering full season and day-after access to a long list of shows you won't find elsewhere, including Family Guy, ER and Seinfeld.
And to a lesser degree than Netflix, Hulu has created award-winning content, including The Handmaid's Tale and the documentary, The Beatles: Eight Days A Week.
One big plus: Hulu has a live-TV option so you can watch live broadcast networks.
One big minus: You'll have to sit through ads — unless you pay for the commercial-free option.
Amazon Prime Video: A great streaming service you probably already have
If you've already paid for your Amazon Prime subscription that gives you free two-day shipping on purchases, then you've already got Amazon Prime Video. Similar to Netflix, the streaming service offers a huge range of TV shows, movies and original programming, including The Marvelous Mrs. Maisel.  Be sure to check out its catalog of HBO classics such as The Wire and The Sopranos.
Disney Plus: The "must-have" streaming service if you have small kids — or are a kid at heart
Disney Plus is quickly becoming a streaming staple for households with kids and superhero afficianadoes. The streaming service provides access to the complete catalogues of Disney (Frozen, Muana and every other Disney classic you've ever seen), Pixar (Toy Story movies), Marvel (Black Panther, Avengers) Star Wars and National Geographic. Looking to add more content? For $13 per month, you can bundle Disney Plus, Hulu and ESPN+.
Fubo: For the avid sports fan
Just want sports and news? Check out Fubo. For about $55 monthly, the service offers more than 100 channels in 4K, including a ton of niche sports channels and almost every cable and broadcast network you can think of — except for ABC and ESPN. Both of those are owned by Disney.
And you don't have to commit right away to Fubo. Seven-day free trials are available.
Crackle and Peacock: Totally free streaming services
Short on cash? Several streaming services are totally free. You won't get access to the latest blockbuster or the hot new TV series. And you'll have to put up ads. But that's what makes these options possible.
One solid option is Sony's Crackle. While the service offers limited TV shows, its catalogue of movies makes it worthwhile. Original programming is also part of the mix along with children's shows.
Meanwhile, Peacock Free provides access to TV shows from USA, Syfy and NBC as well as movies from Universal and Dreamworks Animation. All you need is an email address and password to start watching immediately. And if you get hooked, Peacock offers paid packages too.
Your days of sitting in front of a spinning wheel and a frozen screen will soon be a thing of the past with high-speed internet from DayStarr. Sign up today and start building your perfect streaming setup.
Employee Feature: Daniel Pray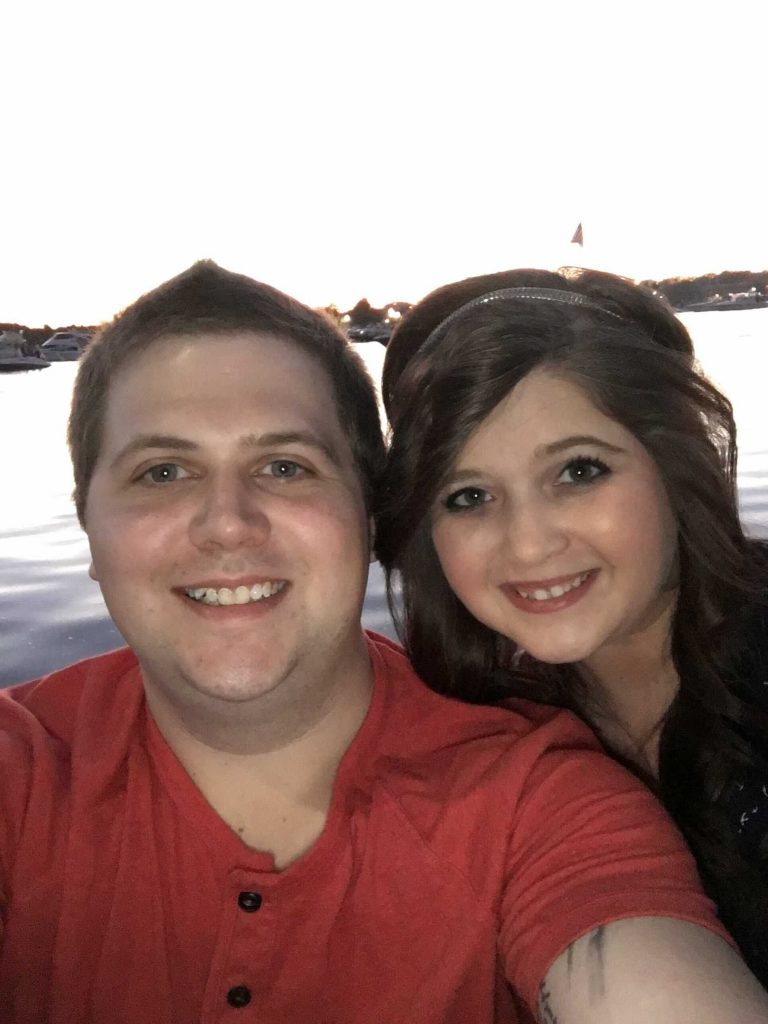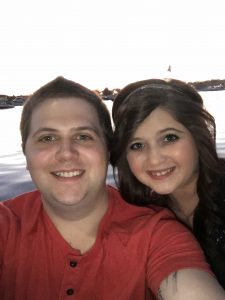 [12/17/2020] Meet Daniel Pray, one of DayStarr's Customer Support Technicians. As a Customer Support Technician, Daniel promptly identifies any customer issues and finds a quick resolution based on customer needs. He helps with some home and business installs as needed, as well as restores equipment to ensure it is working up to standards.
"My favorite part about working at DayStarr is being part of a team who shares a common goal, to provide excellent service at an affordable price. The entire team is incredibly helpful and never turns down helping someone out," explained Daniel. When talking to friends and family about what he does he proudly says that he works for a company that cares about their community!
Originally from Ovid, Daniel moved to Owosso as a kid and graduated from Owosso High School in 2009. He then went on to Baker College where he earned a degree in Web Development in 2012. Daniel has a background in cinema management and loves watching technology evolve and help us in our day to day lives.
In his free time, Daniel enjoys traveling with his wife, Morgan (pictured), and their dog, Loki. When he's not traveling, on weekends he's generally spending quality time with family or friends. Some of Daniel's hobbies include discovering new and creative music, woodworking, gaming, or relaxing with a good movie.
Daniel has been a valued member of our team and we appreciate him greatly!
Budget-Friendly Smart Kitchen Devices for Holiday Cooking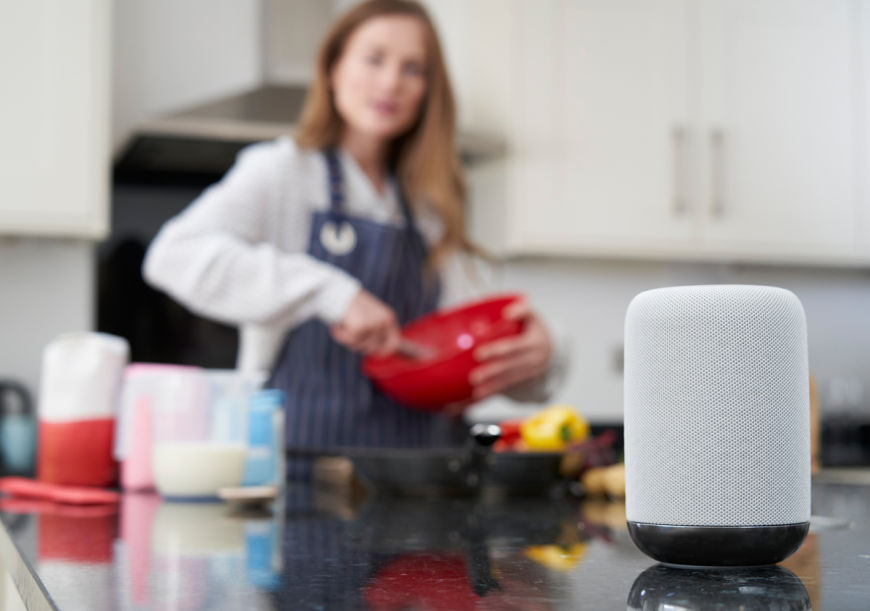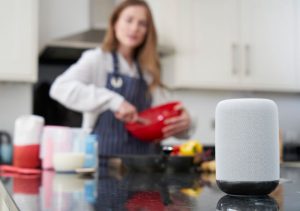 [12/17/2020] Whether you're preparing a family dinner or baking Christmas goodies, these budget-friendly smart devices, paired with fast and reliable internet from DayStarr Communications, will save you time and up your game in the kitchen this year.
To say that the Drop Scale is more than a traditional kitchen scale is a serious understatement. Once connected to your WiFi, this scale can keep all of your recipes on track. For instance, let's say a recipe calls for more than you have flour left in the pantry. You simply pour what you have into a bowl on the scale, and it will recalculate the all of the other amounts in the recipe for you. Or, maybe you'd like to swap out one ingredient for another. Drop Scale will tell you exactly how much of that new ingredient you should use to balance out your recipe.
Tired of constantly having to drop everything to look at the meat thermometer in the oven? Or, having to buy an extra thermometer to monitor two things at once? This smart thermometer from iDevices solves both of these problems by connecting to an app on your phone. With it you can track two temperatures at once on your smartphone via an app and set up alerts for when your target temperature is reached. That way you are free to work on your other holiday meals, dishes, or entertain your guests.
The June Oven is not exactly on the inexpensive side at $700, but for everything it can do, you may want to make the investment. In addition to being a countertop oven, this smart appliance is also an air fryer, slow cooker, toaster, and broiler. It also has a built-in HD camera that can recognize various ingredients and prompt you with suggested cooking programs. And when connected to WiFi, you can use an app to monitor your food with the camera and make any necessary adjustments to the settings from anywhere.
Hamilton Beach Smart Coffee Maker
By the time December gets here, let's face it, you're going to need all of the coffee you can get. This connected coffee maker can stay one step ahead of your caffeine needs thanks to its advance scheduling features. And if you find yourself in need of a "pick-me-up" while you're knee deep in wrapping paper? No problem. The Hamilton Beach coffee maker integrates with your WiFi-enabled Alexa to make it completely voice controlled. You can even control the strength of the brew!
Let these smart kitchen devices, and fast and reliable WiFi from DayStarr Communications keep you on track this holiday season.
New Internet Packages Featuring Plume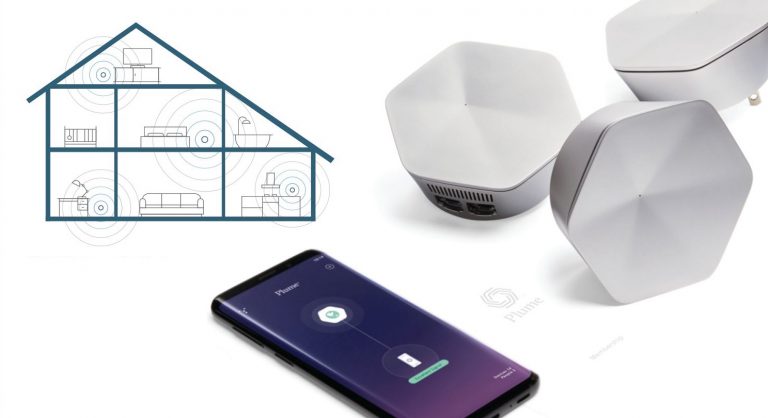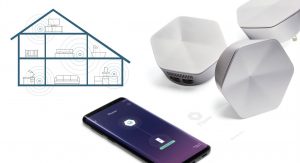 [12/17/2020] Have you heard we have new Fiber Internet packages? Our new packages are specially customized for the size of your home and feature Plume SuperPods to extend your Whole Home WiFi! We've taken big homes, small homes, big families, small families, and any and all chaos into consideration. We are confident we have a package just for you that will exceed your expectations.
We may have new packages with faster speeds, but we are still delivering the local and dependable internet our community has enjoyed for two decades. We know the faster speeds we offer will make your experience using the internet much more efficient and enjoyable. Many subscribers have told us they can do so much more and everyone in the house is much happier!
For more information regarding our new packages and Plume click here.