We Need Your Help: Tell Uncle Sam You Want Better Internet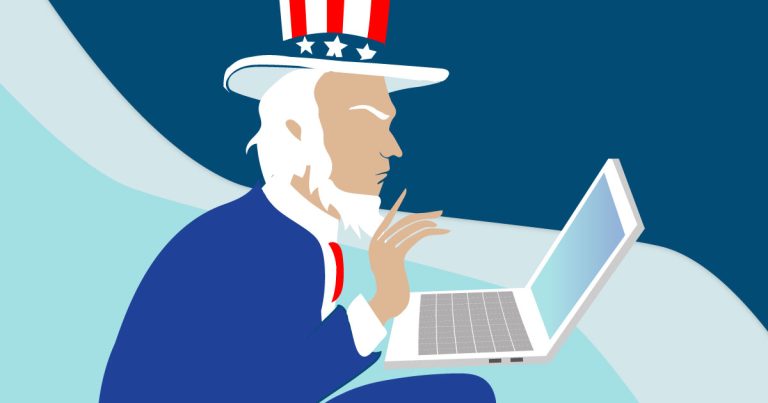 [12/27/2022] Every day, we get calls from residents and businesses outside our service area asking if we can bring our Fiber Internet services to them. We want to connect as many people as possible in the areas we serve, but Fiber construction is expensive.
Fortunately, there is federal funding available for building out better broadband—but if you want that funding to benefit your neighborhood, we need your help! Read on to learn how you can make your voice heard in just 90 seconds.
Make Your Voice Heard in Three Simple Steps
The Federal Communications Commission (FCC) recently launched its Broadband Data Collection (BDC) campaign. Their broadband availability maps will influence how much broadband funding goes to each state.
The bad news is that the maps currently underestimate just how much of our state is underserved. The good news is that the FCC is seeking challenges to its maps—inviting you to make your voice heard! Here's how you can help in three simple steps:
Go to broadbandmap.fcc.gov. Type your address in the search bar and select the closest match from the dropdown.
Note: If the locator dot is not on the correct rooftop, click "Location Challenge" to provide correct information.
Scroll down to view the Internet Provider, Technology, and Speeds reported available at that address. If any information is incorrect, click "Availability Challenge" and select the Provider with inaccurate information.
Note: If your locator dot is red, then no internet options have been reported at your address.
Scroll down further and report the reason you're challenging the reported information. Select the certification box at the bottom of the form and click "Submit."
You can also watch or share this 2-minute tutorial video on submitting a challenge via your other mobile device.
Once you complete the form, share this blog with family, friends, and neighbors, encouraging them to do the same!
Thank You for Helping Us Bridge the Digital Divide!
High-speed internet is just too important to daily life to be so unavailable to so many. The FCC needs a true picture of coverage gaps to help ensure that critical service reaches our schools, hospitals, first responders, local governments, private businesses and farms, and every home.
The 90 seconds or so you devote to filling out the form can help cut years off the time needed to make high-speed internet fully available across our state. Thank you for your help!
Employee Feature: Logan Rose
[12/19/2022] Please join us in welcoming one of the newer members of the DayStarr Team, Logan Rose. Logan is an intern on our team and you may notice he looks very familiar. Kind of like a younger version of someone else on our team perhaps?? If you were thinking that you are correct because he is our very own Collin Rose's son.
Some of Logan's responsibilities here are DayStarr include learning to splice fiber, helping design maps for our underground builds, and assisting with the preparation of permits. When asked, Logan said his favorite thing about working for DayStarr is learning new, on-the-job skills.
When Logan isn't in the office he enjoys attending church, reading, and playing chess. Logan was born and raised in Owosso and is homeschooled. If you get the opportunity make sure to welcome Logan to our growing DayStarr team.
DayStarr Give Back Day 2022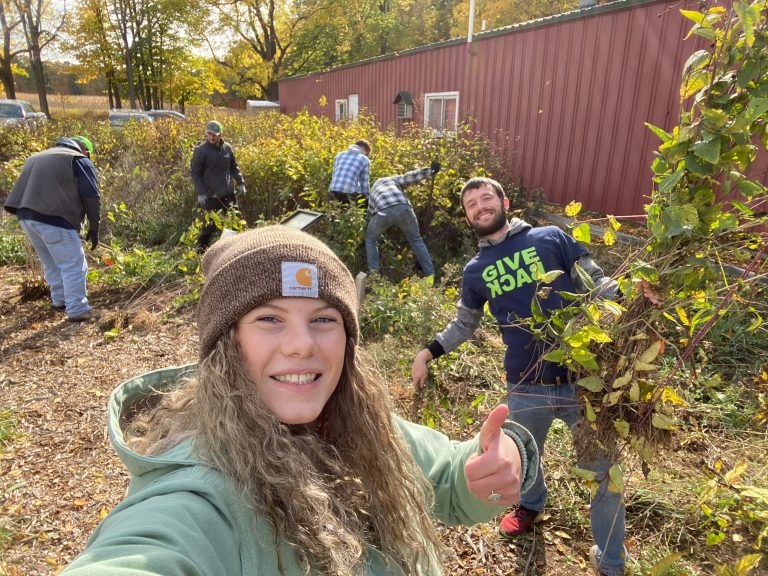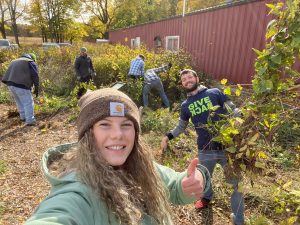 [12/20/2022] Each fall the DayStarr team sets aside half of a day to give back to our community. For six years and counting, we've called this DayStarr Give Back Day–a day many of our employees look forward to each year. It gets our team out of the office and into the communities we serve. This day also allows employees that wouldn't usually work together to get to know each other, build camaraderie, and strengthen bonds in our company. It has become a wonderful, team-building experience for our staff while we give back.
This past October, we gave back to quite a few organizations within our community. We started our 2022 Give Back Day with lunch in the park from our local Mancino's. Our team has and continues to grow, allowing us to break into smaller teams and expand the number of sites we can give back to.
One team headed to DeVries where we made ice cream with a gas powered ice cream maker for their Fall Festival, pulled weeds, and lent a hand with outdoor work.  Another team traveled to Durand to serve at the train depot. At the Depot we cleaned up the grounds, mulched flower beds, and washed windows. Finally, a team helped out at Emerson Elementary School replacing basketball rims and nets and cleaned up around the school!
Each year we look forward to this event and giving back to the wonderful communities we serve and look forward to Give Back Day 2023.
Picking Your Child's First Gaming System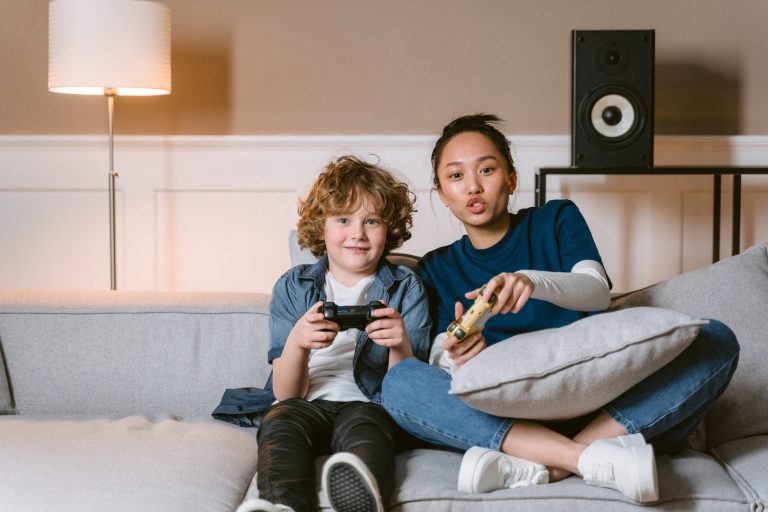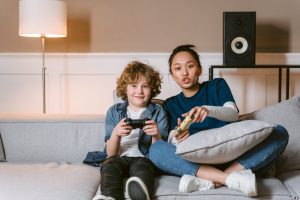 [12/19/2022] As technology and devices get better and more interesting each year, kids are sure to have one thing at the top of their list whether it's Christmas or not: an awesome video gaming console.
To help you, we've put together a guide to help parents choose their kid's first gaming system. And today's platforms are simply loaded with features that make gaming much more sophisticated and fun.
Utilizing high-speed Internet, such as the Piber network provided by DayStarr gaming consoles, and similar devices can enable phenomenal gaming experiences and activities you couldn't have dreamed of when you were a child.
Below we discuss features every parent should consider when choosing a gaming system for their kids. We also highlight some of the best gaming systems on the market today.
Gaming System Features Parents Should Consider
Before we discuss our top gaming system recommendations, we want to highlight certain features that are most important to parents before they shop for gaming systems.
Specifically, our top factors are:
Durability
Easy-of-Use (especially the gaming interface),
Parental Controls and Settings
Game Variety and Availability
Durability
Let's face it: in a house with children, whatever gaming system you choose will get bumped around.
A well-designed and constructed console have durable parts that resist the occasional rattles and the less-than-tender touch of kids. All of our recommendations below are durable, though one is probably more kid-friendly than the others.
Ease-of-Use
Many grown-ups are even intimidated by new technology. The console's interface is crucial, so you don't have to constantly help your child sign in and out and find their favorite games.
Other factors like the size, weight, and ergonomic design of the controllers are also important when choosing a console for kids. If you are primarily concerned about this, take your child to a store to handle the controller first before you buy.
 Parental Controls and Settings
Most gaming consoles have parental controls letting you set content limitations to appropriate age-rated games. Parental settings also allow limitations on playing against others online (such as limiting other online players to preapproved contacts only), another feature that may give parents peace of mind.
Breadth and Variety of Available Games
This may be the essential feature for your kids is choosing a system with the games they most want to play. This can get tricky, as some gaming consoles cannot access games on other systems and vice versa. It's wise to learn what games your child is most interested in playing before you choose a system.
Top Three Recommended Gaming Consoles for Kids
We next turn to our top three choices and highlight their key features
PlayStation 5
Widely considered one of the most powerful and best-performing gaming consoles ever created, Sony's PlayStation 5 (PS5) stands out from the crowd.
Its graphics capabilities are simply stunning, and its hardware delivers seamless performance for today's advanced games. Like previous models, it has a Blu-ray player, which may provide extra value for movie nights.
The PS5 carries many exclusive gaming titles in demand and is "backward-compatible" with the previous model, the PlayStation 4. It is also quite durable and can withstand regular usage for years.
However, the PS5 only comes with just a single controller. If you have more than one child who wants to play, you'll have to purchase a second controller separately.
And the PS5 is very pricey and sells out quickly.  In fact, the PS5 goes out of stock so frequently that shoppers wait months to get one—and just as often give up and choose another console instead. So before setting your heart on the PS5, allow yourself enough time to find one.
Xbox Series X
Another top gaming system is Microsoft's Xbox Series X.
You will discover dedicated Xbox fans defending their console of choice over others, and not without good reason. Like PlayStation, the Xbox has outstanding graphics, power, and a huge library of games to play.
However, what distinguishes Xbox from its competitors is Game Pass, a subscription-based service that makes playing games cheaper in the long run for many players. Game Pass and its vast library are usually the top reason gamers of all ages choose the Xbox over a PlayStation.
One drawback is many players don't like Xbox controllers because they feel heavier. Some younger kids may find its controller a bit on the heftier side for their hands to properly manage for longer gaming sessions.
Also, measure the space you intend to place the console in carefully, as the Xbox Series X console is bulky. The Xbox also tends to go out of stock often, so be mindful of this when you look to shop.
Nintendo Switch OLED
We've saved the best for last. We believe the Nintendo Switch OLED is the top choice for a first gaming system.
The Switch's compact design includes two controllers, making it instantly playable for multiple people. Its vast library of games has many titles geared toward younger players and titles that teens and grown-ups can enjoy. It's also cheaper than the PS5 and Xbox, making it a better choice for parents watching their budgets.
But what truly sets the Switch OLED apart is that it also doubles as a portable handheld device, complete with a 7-inch display.
That means your kids don't have to be planted in front of the TV to play—they can even play it outside or on long car rides!  This portability factor makes the Nintendo Switch OLED a great option for kids.
But that portability comes with a couple of cons. While still quite admirable, the Switch's graphics and power cannot compete with that of the PlayStation 5 or Xbox. And while Nintendo's library of games is quite good—and still growing—it is missing some games that only a PS5 offers.
As you can see, there are solid gaming system options available.
A parent may decide to hold off on the PS5 or Xbox until their children are older and can enjoy the advantage of some of those systems' exclusive titles and outstanding power and graphics.
That's another reason the Nintendo Switch OLED may be the best for a first gaming system.
But if you can find a PS5 or Xbox in stock, value their exceptional graphics and performance, and know that your children really want some of the PS5 or Xbox's exclusive titles, then either of those may be the right choice.
Why Nothing Beats Fiber Internet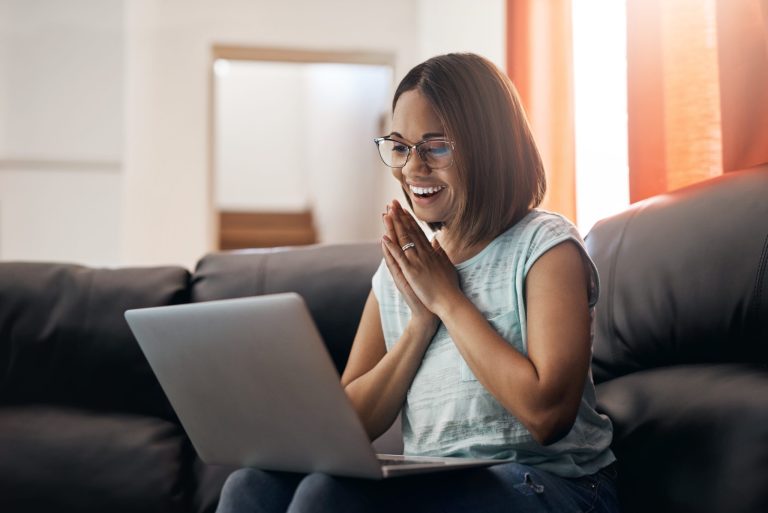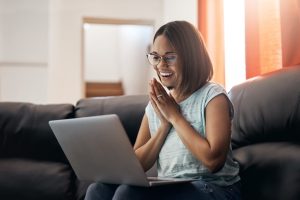 [12/19/2022] You're probably bombarded by lots of advertising trying to persuade you to switch internet providers. And these ads all promise the same thing—fast, reliable internet at a great price.
However, quality internet service has nothing to do with the spiffy corporate logos and glossy images of smiling faces in marketing materials. At its most fundamental level, the speed and reliability of your Internet is based on the kind of technology and quality of materials used to deliver internet into your home.
The most common internet services available today are DSL, coax cable, wireless, satellite, and Fiber Optic. Though some of these technologies have been around for a long time, they are not created equal.
Given the number of choices, deciding which service is right for you can get confusing. At DayStarr, we take pride in helping our community grow with our powerful Fiber network. And we'd like to explain in more detail why Fiber Internet is the best choice for your home or business.
 Fiber Internet: What It Is, How It Works, and Why It's the Best Internet Option Out There
Before we compare and contrast Fiber to its competitors, we'd like to describe what it is and its advantages in more detail. There are three primary reasons why Fiber stands heads and shoulders above the rest: outstanding download speeds, upload speeds, and bandwidth.
 Fiber's Superior Download Speeds
Fiber is shorthand for "Fiber Optic" internet. Utilizing Fiber Optic cable, which consists of hundreds of tightly compacted thin glass strands or "hairs," Fiber Internet technology has an enormous capacity to transfer online data. Fiber internet converts internet data—your emails, photos, videos, messages, and everything else you send and receive online—into data packets.
These tiny packets of data are transmitted to your devices through light pulses along Fiber's glass strands. Fiber Internet literally transfers online data at the speed of light! This means that Fiber's maximum download speeds can easily hit and exceed 1 gigabyte per second. And Fiber's top download speeds continue to increase as its technology improves.
Fiber's Exceptional Upload Capabilities
While most people look at download speeds when assessing internet quality, savvy internet customers know to consider upload speeds as well.
Upload speeds refer to the rate at which your devices send data back to other people and servers. High upload speeds are crucial for stable video conferencing and calls (like Zoom or FaceTime), posting on social media (especially for online videos like on TikTok), and online gaming.
Because of its cutting-edge material composition and sophisticated system design, Fiber Internet has a great capacity to download and upload data in equivalent measures.
Techy folks call this "symmetrical internet,"—and no other technology currently has Fiber's ability to deliver it so well. Fiber's technology provides equally fast download and upload speeds through its outstanding symmetrical internet capability.
Fiber's Massive Bandwidth Capacity
Last but certainly not least, Fiber internet has far greater bandwidth capacity than other forms of internet.
Bandwidth is often confused with speed, so let us clarify: bandwidth is the quantity of data and information an internet connection can handle over a specific time (usually per second). Higher bandwidth is critical in households with multiple devices—and for families that like to stream movies, regularly post and view online videos, and enjoy online gaming.
Because of more bandwidth, Fiber internet providers typically have no data caps, so you won't have to worry about end-of-month slowdowns.
ISPs employing older technology (like the kinds discussed below) are far more likely to have plans that sneak data caps into their services. With Fiber and its vast bandwidth capacity, you seldom have to worry about data caps hindering your internet!
 Fiber's Rivals Just Can't Keep Up
Fiber transmits data faster and more reliably than other internet options that rely on older infrastructure and materials designed for other purposes like telephone or television. That makes Fiber a faster and more dependable internet service for your home.
While the other options on this list may have fast download speeds—or even claim to match some of Fiber's speeds—no other current technology has either the upload speed or bandwidth capacity of Fiber.
Below are the four main alternatives to Fiber internet available today. We briefly describe them—and explain why they fall short of Fiber's outstanding capabilities.
DSL
DSL, short for "Digital Subscriber Line," is one of the earliest forms of "high-speed" internet.
Built on the copper wiring used for landline telephone service for decades, it can achieve maximum download speeds of around 100 megabytes per second—or about 10% of Fiber's typical 1 gigabyte per second rate.
DSL is still found in many small towns and rural areas that don't have access to Fiber. But since DSL's maximum speeds are just a tenth of Fiber's, DSL doesn't even come close to matching Fiber.
Coax (Cable)
Next, we turn to the most common alternative to Fiber available today: cable.
Short for coaxial cable, "coax" uses copper-based wires to transmit internet signals. While cable is an improvement over DSL, it uses a technology created to send television signals, not internet data. Consequently, cable's copper wiring doesn't have the "capacity" to transmit data nearly as well as Fiber, especially regarding uploading and upload speeds.
And Fiber's speeds are just astounding, up to 10-to-20 times faster than cable. Cable's copper wiring just can't keep up with Fiber. So when you add in cable's relatively poor bandwidth capabilities, it's clear that Fiber internet leaves cable in the dust!
Wireless Broadband (or Fixed Wireless Internet)
Another internet option is wireless broadband. The name can be confusing, as WiFi provides your own home with "wireless" internet, but in this case, wireless internet offers service to customers through cell phone towers with 4G and 5G signals.
Because cell phone towers are increasingly common in areas without other telecommunication or cable infrastructure, they may be a good option for people living in remote areas.
 However, wireless internet cannot compete with the high speeds delivered by Fiber and here's why.
Your home or business's distance from the wireless cell phone tower will impact the speed and stability of your internet—and probably leave you frustrated. In addition, wireless broadband's signal is easily obstructed by other buildings and structures or affected by the weather and other environmental impacts.
Due to Fiber's "hard-wiring," those obstructions simply don't apply, letting Fiber's light-speed data transmission deliver outstanding service.
Starlink
 Starlink, a relatively new company, owned by SpaceX, provides satellite internet to remote areas, including many rural areas in the United States.
Starlink's low-orbit space satellites provide faster speed capabilities than other satellite internet technology. But Starlink is still hampered by the same quality and consistency problems that plague all satellite internet options, including weather interference and other atmospheric factors.
While Starlink may improve previous kinds of satellite internet, it just can't provide as reliable a signal as Fiber's advanced "hard-wired" infrastructure and technology regularly does.
Other Factors to Consider
So what, if any, are the downsides Fiber internet? Well, the biggest downside to Fiber is that it's not available everywhere. The good news is that more and more communities are accessing Fiber, including rural and smaller communities.
Another consideration is that Fiber's highest download speeds per second—usually a gigabyte per second—can be pricey, meaning some people may not as easily afford to max out on Fiber's outstanding benefits. But even Fiber's more modest speeds are still faster and more reliable than the other forms of service currently available, making any Fiber Internet plan an excellent value.
As you can see from the above comparisons, Fiber clearly delivers superior internet at greater speeds and with more consistent reliability than any other option. It's the best choice for high-speed internet on the market today.
If you have other questions about Fiber Internet and how it can help make you more productive, the friendly support team at DayStarr is available to help.
Your Guide to Smart Home Security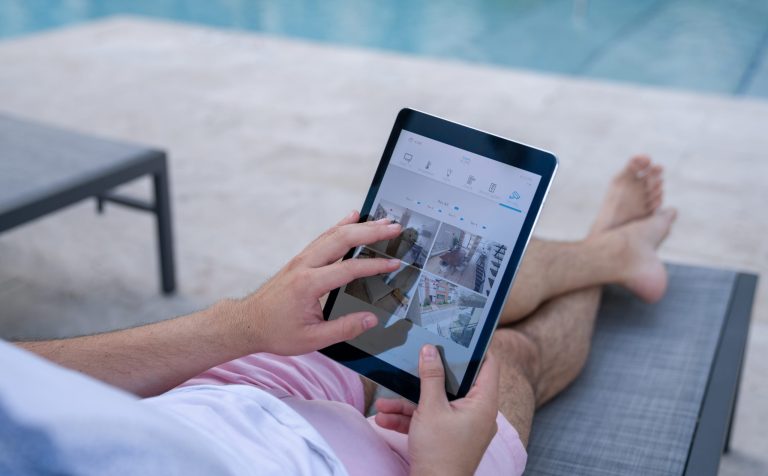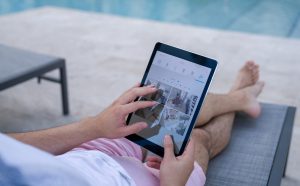 [12/6/2022] Your top priority is keeping your family and home protected and safe from harm.
Thankfully, today's technology can help you feel safe by making you more aware of what's happening outside your home, no matter where you are. And smart home technology can help deter crime, as well.
Your neighbors at DayStarr understand your concerns and desire to keep your family safe. We are also a part of our community and are proud to help serve and keep people informed, connected, healthy and secure. That's why we've put together this brief guide to smart home security that anyone connected to our high-speed fiber network can learn from and put to good use.
This concise overview highlights some of the most well-regarded smart home security measures and technology recommended by home safety experts.
Smart Doorbells
Smart doorbells help you see who is at your door before you answer. They also monitor any activity on your doorstep, front porch, driveway and even on the street in some cases. These devices can help prevent deliveries and packages from being stolen and deter suspicious activity at your home.
Smart Security Cameras
A smart security camera setup is a must for those looking for more robust security.
You can install a smart security camera system anywhere in or outside your home, from the driveway to the backyard. Many smart security cameras are designed with motion sensors, so any time a person—or even larger wildlife—is detected, you will know it.
You can also use smart security cameras with motion-sensing outdoor lighting, which will also help deter unwanted visitors. Best of all, smart security cameras connect to your home's WiFi and all your devices, keeping you notified of activity outside your home.
Smart Lighting and Glass-Break Detectors
Other state-of-the-art smart home tools can improve safety and security.
For example, glass-break detectors can alert you to intruders. Because they connect to your home's fiber network, your family will be notified of a break-in.
And smart lights detect motion and send notifications to your phone or tablet, alerting you to be on your guard.
Personal Medical Alert and Emergency Devices
Seniors and others with mobility limitations or chronic health problems need quick communication with first responders.
When there's an acute health emergency or other safety concern, personal medical alert and emergency devices can connect people to first responders at the touch of a button. During an emergency, there's no need for seniors to locate and use a phone, as making contact with emergency personnel is simple and fast with these outstanding devices.
Don't Forget About Network and Online Security
At DayStarr, we take the security and stability of our network very seriously. Our engineers and technicians constantly work to keep the network safe from attacks.  But there are also some steps you can take to protect your data and online privacy.
Keep your home network safe from hackers and phishing attacks by using strong anti-virus software and apps on all your devices, as well as password managers to safeguard your accounts.
And be sure to use a complex password that is difficult to guess—and not the same as all of your other passwords! Ad blockers can also save both aggravation and the unseemly tendency of advertisers to track your online activity.
These are just some innovative devices and services available to put Smart Home technology to good use for home safety and security. But as always, practice common sense in and around your home and online.
Keep front and back doors locked (and car doors, too). And avoid clicking on suspicious emails or untrustworthy links, so you don't become a victim of a security breach.
Don't forget that smart technology and intelligent decision-making keep our neighborhoods and communities safer.