Counting Your Devices: How Much Speed Do You Need?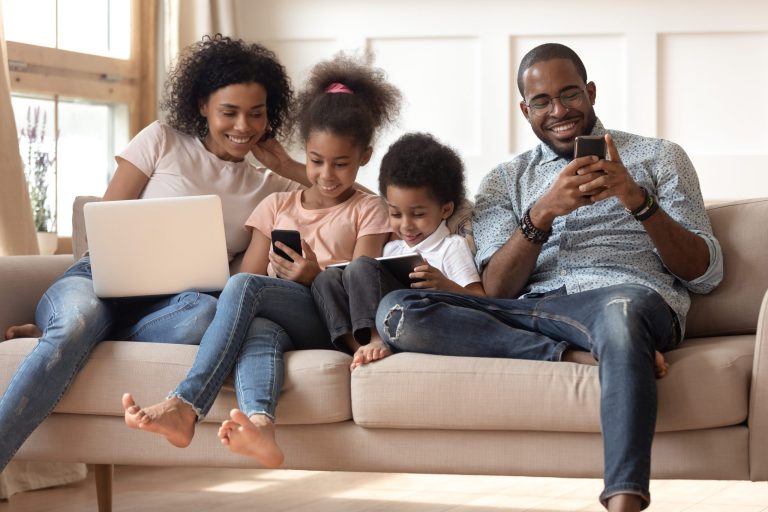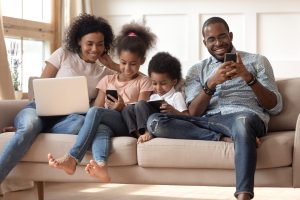 [10/25/2022] Today's homes are brimming with devices that connect to the internet. Technology is everywhere in your home, from tablets to smart TVs to cell phones and smart speakers.
Because you use reliable high-speed Fiber Internet from DayStarr you can confidently stay connected to the internet for all of your streaming and internet needs. But, if your home is full of devices and people who regularly use them, you may wonder if you need to upgrade your internet speed.
Many factors influence internet performance in a home. For example, the location of your router, obstructions like walls and glass, interference from electronic equipment, and multiple devices can contribute to slow-downs and underperformance.
We'll help you self-assess whether you should upgrade your internet service plan's speed. Then, you can choose a speed plan that makes a huge difference in your home's internet service.
Let's get started!
How to Count Your Devices Without Missing Any
Given the diversity of devices in a typical home, it can be easy to undercount how much internet-using tech there is in your house! Use the following list and guide to ensure you don't miss any device.
First, start by counting your personal devices like your laptop, tablet, and cell phone.
Second, do the same for every other adult in your home, be it a spouse or a roommate, and count their devices.
Then, count the number of smart TVs in your home, including televisions that use a streaming stick (e.g., Roku, Amazon Fire Stick)
Next, count your children's laptops, tablets, and cell phones.
Finally, count any smart home devices like smart speakers (think Echo or Google Home devices), smart doorbells (like Ring), smart security video cameras, smart appliances, and smart thermostats.
Once you've gone through each of the categories above, total them all up to see how many devices you have. Then write that total down and save it.
Device Bandwidth Usage— How All Your Tech Really Adds Up
Now that you've done an accounting of the total number of devices in your home, you need to understand how much bandwidth these devices can take up. Bandwidth, in simplest terms, is the maximum capacity any internet connection can have.
The higher the bandwidth, the more data can be sent to and from your device—which makes a huge difference when you have multiple devices streaming movies in different rooms at the same time!
Thankfully, fiber internet has much greater bandwidth capacities than cable. But too many devices in use at the same time can "eat up" the bandwidth and lead to slowdowns.
Some devices use a lot more bandwidth than others. For example, smart TVs use vast amounts of bandwidth to stream movies and television shows. So, if you have multiple smart TVs streaming simultaneously, you may experience some slowdowns.
Cell phones use bandwidth anytime they use the internet in your home. So, whether conducting a simple Google search, or engaging in a more intensive activity like watching a YouTube video, if your kids are actively using their cell phones, expect they are taking up bandwidth, too.
Laptops and tablets will also use lots of bandwidth for gaming or file sharing. Even your Echo Dot will take up bandwidth if you're streaming music while getting dinner prepared.
Adding It All Up—And Upping Your Internet Speed
When all the devices in your home are tallied and you consider the amount of bandwidth in use by everyone in your home, you'll begin to understand why you may need a speed upgrade.
Adding extra internet speed will almost certainly improve the performance of all the devices in your home, given how many are regularly in use.
And the best part of increasing your internet speed is that by providing enough bandwidth, everyone in your home can use their devices at the same time without experiencing slowdowns!
Upping speed tiers—especially by going up to 1-gig per second—means that your household no longer needs to take turns on who streams which show or movie at a given time or plays online games against their friends.
Faster internet speeds and higher bandwidth will also give you a little more peace at home.
So when you're ready, be sure to call and talk to one of our wonderful team members at DayStarr and they will be available to answer all your questions and help you choose the best internet speed plan to meet your home's needs.
Building a Smart Backyard: Create Your Ideal Entertaining Space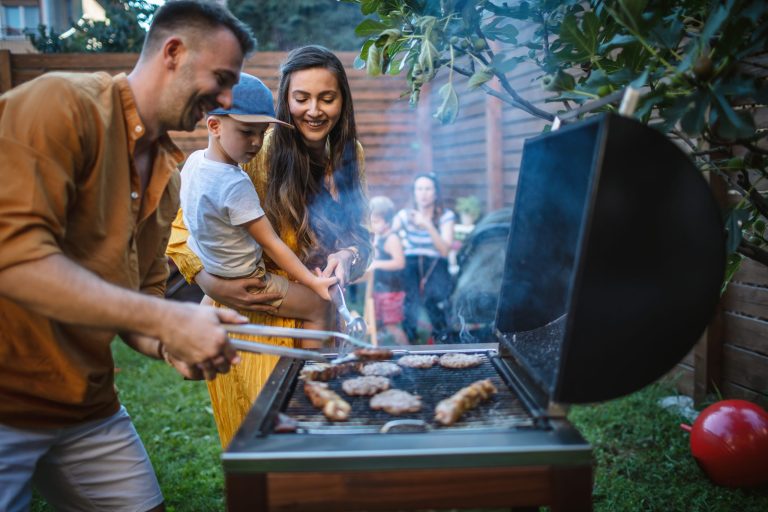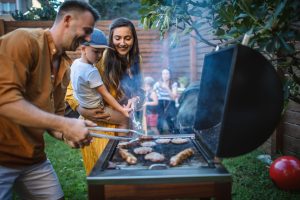 [10/18/2022] If you're like many homeowners over the past few years, you've already discovered the conveniences—and cost savings—of creating a smart home.
From improved energy efficiency with smart thermostats to increased security of smart doorbells and cameras to the calm-inducing ambiance of smart lighting, smart home technology can transform your house into an ideal living space.
However, the delights of smart home devices don't have to be limited to the four corners of your house. With some planning and creative design, you can take the conveniences of smart home technology into your backyard!
With just minor adjustments to your Wi-Fi setup, DayStarr's Fiber Internet can easily reach into your back porch, patio and yard, providing internet coverage wherever you wish to enjoy your outdoor home life.
Below we detail how you can create your own smart backyard to make your outdoor living area the envy of your neighborhood!
Outdoor Wi-Fi Extenders
Your smart backyard begins with extending your Wi-Fi range to reach the coverage needed for outdoor living space. Technically called a "wireless access point," Wi-Fi extenders "capture" your home's wireless signal and disperse it farther and more broadly, enabling greater coverage.
Outdoor range extenders are designed to be resistant to precipitation and dust. This is an essential first step to controlling all the other devices we suggest below and will help ensure a strong signal you can count on for all your outdoor internet needs.
Smart Outdoor Security for Your Backyard
While smart doorbells and cameras have become popular for monitoring your front door and driveway, you can also create additional peace of mind by providing similar security for your backyard.
Outdoor wireless security cameras let you keep an eye on what's happening in your backyard, which can be especially useful when your kids are playing outside while you're attending to other matters indoors. Motion sensors can detect unwanted visitors, including wildlife, making a smart outdoor security camera a wise choice.
Outdoor Smart Speakers
When you're entertaining, whether it's a pool party or an outdoor barbecue, music is simply a must.
And with dust-tight, waterproof outdoor Smart Speakers, you can arrange a sound system for your backyard or patio that rivals your indoor entertainment set-up!
Smart speakers can connect to your devices and music apps like Apple Music or Spotify, letting you show off your playlists as you digitally spin tunes outside. Some outdoor smart speakers can individually fill up an outdoor area, but consider adding multiple smart speakers and pairing them together for even richer sound.
Outdoor Smart TVs
With today's technology, you don't have to sit indoors to enjoy TV or watch a weekend's worth of fall football.
Indeed, more and more backyard barbecues and parties are incorporating live sports and other entertainment on outdoor smart TVs not limited by the length of the cable cord! While Outdoor smart TVs are more expensive than their indoor counterparts, they are outfitted to endure the elements and last years longer outdoors, too, them a better long-term value. Look for IP55-rated models, which are the most moisture-resistant and dust-proof (and pollen-proof!) outdoor smart TVs.
Smart Outdoor Lighting
Outdoor lighting can truly add something special to the ambiance of your backyard. Whether you create dramatic effects by spotlighting shrubbery and trees, or stringing-up lights along pathways, smart lighting takes outdoor lighting to the next level.
Today's smart lighting tech lets you control and adjusts the power of the lighting, including dimming, just with your voice. Other smart bulbs can adjust colors and hues, adding to various lighting effects—this can be particularly cool during holidays!
And to add to the security features of your backyard, you can also include motion sensors to turn on any lights when a passer-by is detected.
Smart Fire Pits
When the weather cools in fall and winter, and the air is crisp, you can enjoy the coziness and warmth of a smart fire pit. Some models include features like smokeless fires with adjustable flames, greatly easing the workload of starting and building a fire.
Other Smart Fire Pit models are traditional fire pits that burn actual wood and can even be used to cook—or roast marshmallows! Smart technology lets you control the flames through your devices, providing additional safety and convenience.
Smart Barbecue Grills
Finally, we would be remiss if we didn't include recent technological advances to outdoor barbecue grills.
Smart grills include many features designed to reduce the stress—and, let's face it, disappointments—that frequently accompany so many backyard barbecues. Today's smart technology is built into your smart grill, keeping you informed on timing and temperature, so you don't undercook your guests' hamburgers or burn your shish kabobs to crisps. A smart grill can genuinely help make your next backyard barbecue a success!
By setting up a smart backyard, you might enjoy more of your property than you ever imagined. Together with DayStarr's Fiber network, these smart devices can integrate modern technology seamlessly across your back porch and patio, making your home more livable, secure, and valuable.
That's Not Normal: Five Signs You Need Better Internet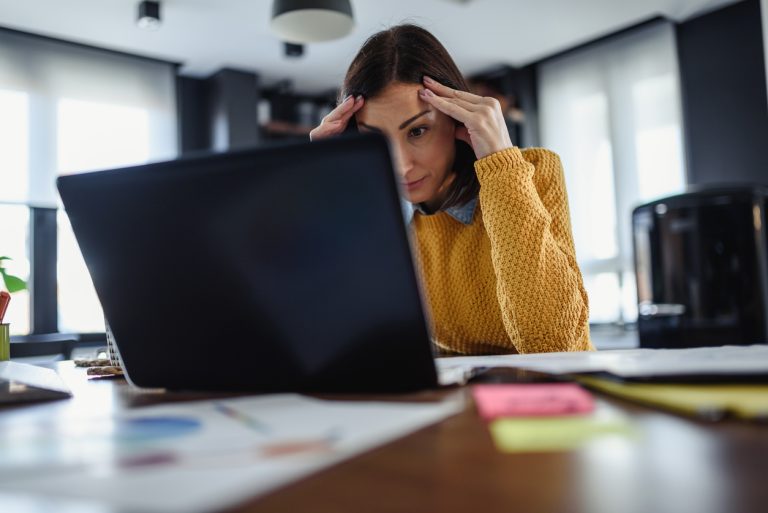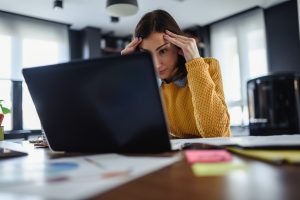 [10/8/2022] Slow, interrupted, or choppy internet can be a frustrating experience. And if you and your family experience it when everyone is at home and streaming shows or movies, you know how it can ruin your evening.  Subpar internet can also make everyday communications with friends and co-workers difficult and negatively impact your productivity, as well.
Having fast, reliable, and consistent internet throughout your day (and night) throughout your home is essential—almost as necessary as all the other utilities. It can help keep the peace at home, too!
But you may have experienced enough consistent problems to wonder if something is "wrong" with your internet. While slowdowns and unstable signal are often due to your Wi-Fi hardware being older or not updated, your internet may be slow because your internet service is not as reliable and fast as current technology can provide.
The good news is that you can upgrade to fiber internet—the fastest, most reliable internet you can find! DayStarr and its team of expert technicians can help get you on the road to high-speed fiber internet starting with one phone call.
Before we explain how fiber can turn around your frustrating internet experience, we discuss five warning signs that indicate it's time for an upgrade. From "dead zones" in your house to not being able to stream on multiple devices simultaneously, we will help you troubleshoot so you can make the right adjustments and improvements.
1) Slow Speed Tests
The fastest way to determine if you're not getting enough internet signal is to run a speed test.
Speed tests can be checked on a cell phone in any room in your house. Start your internet troubleshooting by running a speed test anywhere and anytime you experience choppy or slow internet. Take note of the times of the day these slowdowns most frequently occur. It's a great first step to turning your internet around.
2) Needing to Regularly Restart Your Router
If you frequently restart your router, it could indicate your internet needs an upgrade. While it's recommended to reboot your router every few months to improve connections, doing so routinely (weekly or more often) is likely a sign your internet service is just not fast enough, rather than the router not working properly.
3) "Dead Zones"—Or Not Getting Adequate Wi-Fi Signal in Particular Rooms
Many homes have the dreaded "dead zone," where your internet only has a weak or lifeless signal, rendering it useless to stream music, TV, and movies or even check your email.
With today's Wi-Fi technology (properly set up and situated), dead zones should be rare, if not extinct. So, if you find dead zones in particular areas of your home, it may be time to improve your internet service to get a stronger signal everywhere in the house.
4) Struggling to Stream on Multiple Devices Simultaneously
If your family is struggling to stream TV and movies simultaneously on different devices, your family is likely to…well…struggle.
We understand that keeping the peace at home is a top priority, and quality internet should be a non-contentious issue!  But difficulty streaming on multiple devices simultaneously is a sure sign of insufficient bandwidth which means you have outdated, poor internet service. So, if this issue keeps popping up, it's time to consider an internet service upgrade!
5) Videos Buffering Too Long and Slow Streaming
Our final sign that you need an internet upgrade is probably the most obvious and exceedingly frustrating: your movies and TV buffering for way too long.
If you find this happening n, or if the picture quality is frequently pixelating, indicate your internet does not have sufficient speed or bandwidth to handle streaming.
Upgrading to Fiber Internet Can Make All the Difference
Any of these issues could indicate a problem with your internet service. Unfortunately, many customers experience more than one—or even all—of these problems and others we don't list here.
This is where Fiber Internet technology, such as the service provided by DayStarr, comes in.
Fiber internet technology transfers its data (i.e., emails, music, movies, TV, voice and video calls, photos, files, etc.) through light, sometimes reaching around 70% of light speed! Traditional copper-based coaxial cable just cannot compete with fiber's speed capabilities.
It's not just speed that makes the difference. Fiber also carries higher bandwidth capacities than cable or satellite internet. Taken together—increased speed and higher bandwidth—and fiber internet is the clear winner. With Fiber Internet DayStarr, you can get your family on the path to high-speed, high-picture-quality, and reliable internet throughout your home.
So, if you're experiencing any of the frustrating warning signs outlined above, reach out to us at DayStarr and our friendly and resourceful representatives. They will be more than happy to help you determine if upgrading to fiber is the right move for you, and to help you select a package of services that will greatly enhance your internet connection!
Roblox: What Parents Need to Know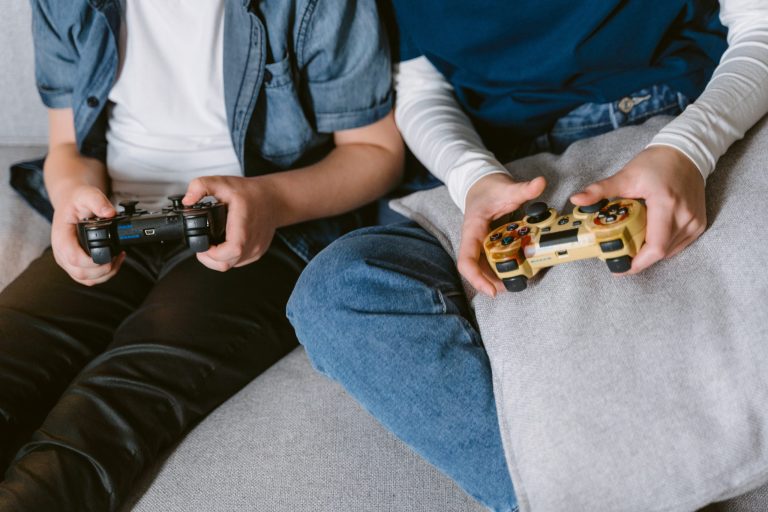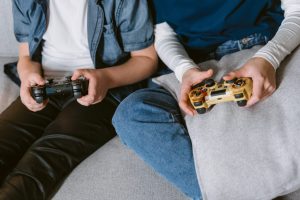 [10/4/2022] Besides streaming entertainment and spending time on social media, it's a good bet that gaming is one of your child's favorite online pastimes. And thousands of different online games are available for them to enjoy.
It's also likely that you've heard one particular "game" repeatedly mentioned more recently: Roblox. And if your kid happens to be obsessed with it, Roblox may be about all you hear them talk about!
While not as well known as Minecraft, at least until the last several years, Roblox pre-dates Minecraft, having launched in 2006. But since the late 2010s, Roblox's popularity has exploded.
Though Roblox is just one online game your child can play on DayStarr's Fiber Network, we think it's worthy of your attention. And before you think that learning more about Roblox isn't worth it, consider this: over half of all children under 16 played Roblox in 2020 alone, a truly astounding statistic. And as recently as May 2022, 43 million people played it daily.
Read below to learn more about Roblox and some key features as we answer many parents' questions about this online gaming phenomenon.
What Exactly Is Roblox, Anyway?
So first and foremost, technically speaking, Roblox is not a game itself. With an accompanying eye roll, there is a good chance your kid has already told you as much.
Rather, Roblox is a gaming platform. It's an online place to create, develop, and share games and then play them.
Your child may develop a game when they are "playing" Roblox—and then play the game they built. Or they could play a game created by one of their friends or other players. Hence, Roblox's platform has a creative and educational aspect that can yield benefits in ways other "games" may not.
Millions of Roblox games have been invented. Many of them are played every single day on the Roblox platform. From first-person shooters to pet adoption and caring-for games, to traditional treasure-seeking adventures, just about any game style can be found on Roblox.
Are There Costs and Monetization Involved in Roblox?
Technically, Roblox is free. There is no fee to join Roblox's platform and games are free to play.
However, like many "free" online games, there are "in-app purchases" available to customize and improve the play of a game—and your kids may come begging you to let them make such purchases.
Additionally, there are ads in the game, so your children will be exposed to marketing materials. Also, keep in mind that many of these ads are clickable, taking your kids from the Roblox platform to a site outside the platform.
Is Roblox Safe?
Roblox includes messaging and chat features to enable interaction with other players in the games played on its platform. Remember that Roblox's popularity extends beyond just kids; many adults can't stop playing.
In theory, your child could interact not only with other kids their age but with grown-ups as well. Naturally, some parents are concerned about inappropriate conduct and communications of any kind, and Roblox has taken steps to address these concerns. They've even included a page on its website to help parents understand Roblox's safety measures.
Roblox has robust parental controls, especially for children under 12. For example, parents can prohibit any "friends" and contacts from messaging their child, which may give some parents extra peace of mind. Other features include chat filters (to detect inappropriate communications or conduct) and an impressive reporting system.
Given Roblox's wild popularity, parents and kids will likely encounter it at some point. Parents should exercise caution and maintain a general awareness of their child's internet use (as with any online activity). But there is an educational, or maybe even vocational, value to Roblox. So take some time to engage with your kid's experience on Roblox, and who knows—maybe you'll join in the fun, too!