Best Laptops for Your College Kid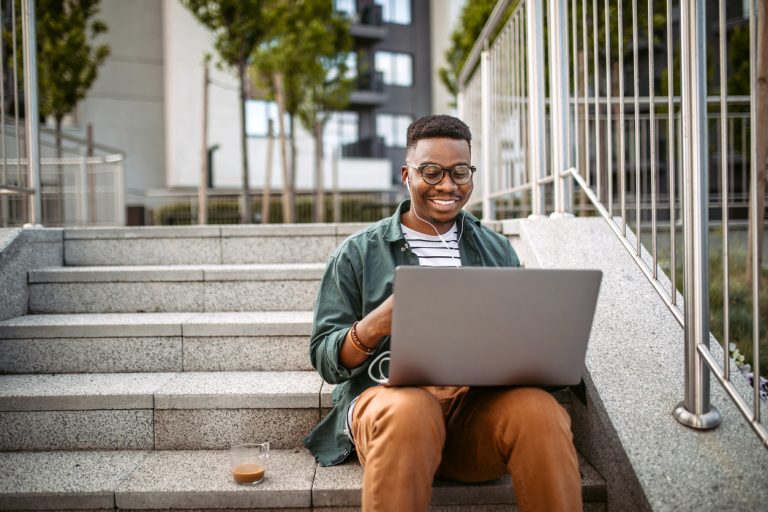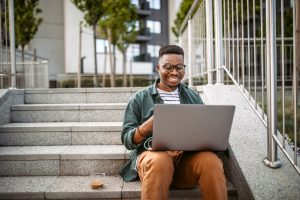 [7/26/2022] As one of life's great transitional moments, heading off to college for the first time marks a period of growth, expansion, and exploration—and lots and lots of expenses! Outside of tuition and room and board, one of the biggest and most necessary expenses is acquiring a new laptop for your budding scholar.
But with so many seemingly endless numbers of brands and features, how do you choose which laptop to buy? Which specifications should you prioritize? And are there any budget options that are worth considering?
We've helped simplify your search by presenting several highly-recommended laptops—including some quality laptops that will help your budget.
And before your college student leaves the roost for good, you can test out and set up their new laptop at home by connecting to our fast, reliable Fiber Internet.
Our laptop suggestions are based on features we believe are most essential for college students. These features include a long battery life, a durable keyboard, lighter weight and ease of portability, and extra RAM to run multiple programs and applications at the same time.
The budget option on our list is sufficient for most tasks your college kid will regularly use, while some of the more expensive laptops will add more powerful features and higher quality components to perform faster.
Below we highlight some of the best laptops most suited to college life, including a budget option, so you can make a more informed decision—and they can head off to college ready to hit the books—and keyboard!
Three All-Around Best Laptop Choices for College Students
We begin with our three choices for 'Best All-Around' laptops from Dell, Lenovo, and Apple, three reliable and respected brands in the industry.
Dell XPS 13
Dell's XPS 13 combines portability with easy functionality—and one of the best displays for its price point—to make an outstanding laptop to take to college. Its processor is powerful and you can customize RAM for up to 16GB and choose a hard drive with up to 2TB of storage, making this laptop a true workhorse.
Lenovo IdeaPad Slim 7 Carbon
Lenovo's IdeaPad Slim 7 Carbon and its 14" display really stands out among its competitors. Its brilliant 2880×1800 OLED display showcases stunning contrasts and noticeably brighter colors. Its processor and RAM allows for seamless multitasking.
Even with its larger display, the IdeaPad Slim 7 clocks in at barely over two pounds making it easy to carry across campus.
Apple MacBook Air M1
Apple prices its MacBook Air M1 with college students (and teachers) in mind.  That said, this model still features many quality components valued by Apple fans, including its Force Touch trackpad and Magic Keyboard.
Its processor, the M1 manufactured by Apple, consists of multiple cores to amp up the MacBook Air's processing power, helping to make this an excellent Apple choice to consider.
2-in-1 Laptops for College Students
We recommend two 2-in-1 laptops below to give your freshman the option to use a tablet—an even more portable device—in addition to the laptop, but without the additional, separate expense. 
Microsoft Surface Pro 7  
Switching easily from a powerful laptop to a sleek tablet, Microsoft's Surface Pro 7 is still among the best 2-in-1's on the market today. Its Intel Core processor (10th generation) will exceed the needs of most college students and its battery life is excellent, while remaining trim and quite portable for the punch it packs.
Lenovo Yoga 7i 
The second Lenovo on our list is the Yoga 7i. Boasting a 14-inch display, the Yoga 7i is unique among 2-in-1's in its price range, and you'll notice the extra screen space you can utilize on many apps and programs.
Like the Surface Pro 7, there is generous battery life to get them through most of their classes and study time throughout the day before needing to charge the device.
Budget Laptop Option for College Students
Finally, we suggest a budget-conscious laptop that will meet most of your college kid's needs, while keeping more money in your bank account.
Gateway GWTN141
For about $500, Gateway, the venerable computer company you may remember from the days before Google was a household name, has built a solid laptop with many of the features your college kid needs most. With its stellar Intel Core i5 processor, the Gateway GWTN141 can keep up with many other models on this list.
Its display is large and its battery can last about 10 hours between charges, making the Gateway GWTN141 a solid value.
Any of these laptops will serve your college student well for their first year of college—and quite possibly even for all four years.
Check them out for yourself—and once you've purchased and received their new laptop, don't forget to give it a test-run on high-speed Fiber Internet to get it all set-up before you drop your kid off at the dorm!