Family-Friendly Podcasts for Screen-Time Breaks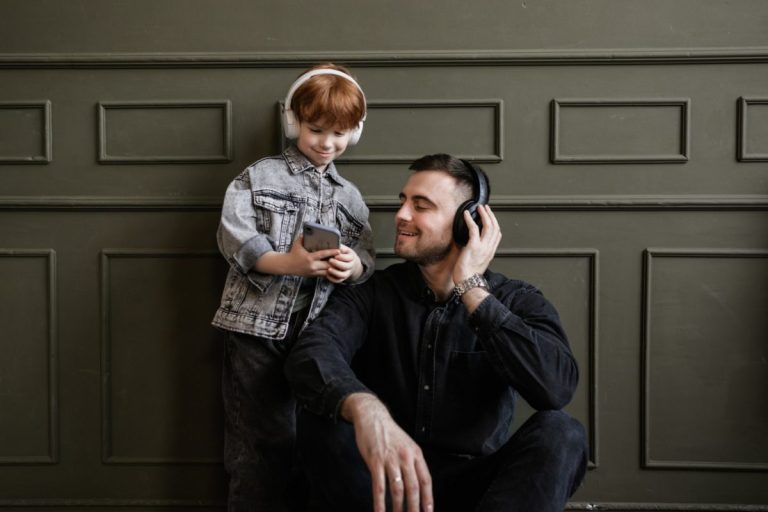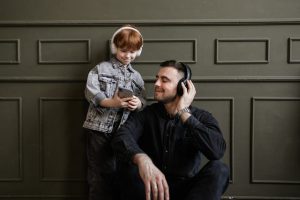 [2/22/22] We know that managing your kids' screen time is one of the more stressful aspects of parenting today. But you also know that we live in a veritable "golden age" of online content that both entertains and informs.
So how can you expose your children the internet's best online content without them having to spend too much time in front of a screen or television?
We have a suggestion: podcasts.
A podcast is like a radio show, often focused on a theme or topic that features discussion, interviews, music, or performance. Developed by passionate creators, podcasts are a great way to learn and be entertained without sitting down in front of a screen. Some podcasts dive deep into a specific subject, while others focus on a broad range of topics.
They are also great for road trips!
And with high-speed, reliable fiber internet from DayStarr Communications you and your family can enjoy a break from the screen and discover the delights of listening and learning through podcasts.
There are thousands of podcasts of all kinds on virtually every topic. It can be challenging to navigate this terrain, especially when finding a podcast suitable (and appropriate) for the whole family.
So, we've put together a list of family-friendly podcasts that everyone can enjoy! Though focused on children of various ages, there is enough entertainment and educational value in these podcasts that any listener will be engaged and informed!
Educationally-Focused Podcasts about Science, Technology, and History
Wow in the World
The Wow in the World podcast will delight curious young minds and lifelong learners alike. Focused on nature, science, and technology, it simply exudes enthusiasm for its topics. Produced by National Public Radio (NPR), Wow in the World is a must for anyone interested in science and the natural world. In fact, we'd be surprised if you didn't enjoy it as much as your kids!
Brains On!
Brains On! is an educational but highly entertaining science-based podcast. Brains On! answers questions submitted by elementary and middle-school students. Listeners will grow their curiosity and increase their scientific knowledge through highly engaging episodes! Of course, grown-ups are sure to learn a lot from the great questions and thoughtful responses, too!
Stuff You Missed in History Class
History buffs—and anyone with a curious mind—will be riveted by the Stuff You Missed in History Class podcast. It's impossible not to learn something new! Diverse topics include fascinating moments in British history and how Disneyland attractions began. There's even an episode on how candy companies develop their sweets!
Stories and Fiction-based Podcasts
Storynory
Remember the heroic legends from Greek Mythology? Or Aesop's Fables? The Storynory podcast features the talents of professional voice actors performing entertaining adaptations of classic tales. Educational as well as amusing, Storynory can captivate listeners of all ages. One of the oldest podcasts on this list, Storynory features hundreds of episodes to sample or binge!
Story Pirates
The Story Pirates podcast presents fiction written by kids as young as four years old. A lively cast performs each story, which will keep the whole family amused while inspiring up-and-coming writers to develop their story-telling skills!
Ear Snacks
Humor is at the heart of the Ear Snacks podcasts—and so is the music! Each episode is centered on a unique theme, including songs and clever story-telling. Ear Snacks' episodes are crafted by lead creators Andrew Barkan and Polly Hall (bonus, they're parents, too!).
This talented duo's celebrated musical and story-telling work was featured on Nickelodeon and Sesame Studios' productions. But be careful—you might have trouble getting the catchy tunes out of your head!
Bedtime and Relaxation
Storytime
Storytime is a podcast that will help calm down and lull your little one each night before bedtime! Think of it as a new way to do traditional bedtimes stories. Each episode consists of brief (around 15-minutes) but complete stories. Both entertaining and relaxing, Storytime's episodes are designed to do what bedtime stories were always meant for—to settle everyone down into a deep, restful slumber!
Peace Out
Our final recommendation focuses on cultivating calm, mindfulness, and relaxation—something all of us could use sometimes! Peace Out was created by the same team behind the Storytime podcast. But Peace Out also teaches valuable coping skills, including meditation and visualization techniques to help anyone live a more mindful, less stressful life.
Tired of the Cold? Try These Smart Devices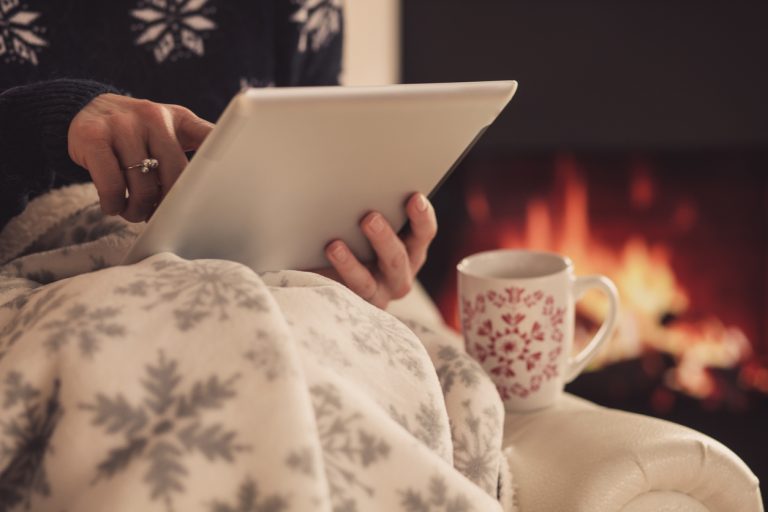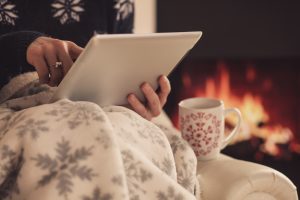 After holidays have passed and friends and family have returned to the routines of daily life, the reality of the "less-festive" parts of the long winter season often sets in.
It can be a struggle even to stay warm. Throw in the dark, short days, chapped lips, and inclement weather. No wonder we often feel gloomy during winter!
And with higher energy costs from increased demand for heat, it can be difficult—and quite expensive—to keep your home and its inhabitants warm in winter.
Now, you may be wondering if there is any technology that will help keep you warmer when it's connected to reliable fiber internet DayStarr Communications!
The answer is 'Yes!'
Below are four suggestions for smart gadgets and gear to help keep you and your family cozy and contented through the remaining months of winter.
Emerson's Sensi Touch Wi-Fi Smart Thermostat
Our first recommendation is a "Smart Thermostat,"—and we suggest the Sensi Touch Wi-Fi Smart Thermostat from Emerson. It's easy to install; it only takes about 30 minutes for most people. The Sensi Touch lets you control the temperature in your home from almost any Wi-Fi accessible device, including your smartphone, tablet, Apple HomeKit, Alexa, Samsung SmartThings, or Google Assistant.
You can also monitor and regulate the temperature of your home when you're away, including raising the temperature remotely before you and your family arrive home. A smart thermostat is simply essential to any smart home and—when used correctly—will greatly improve your home's comfort level and energy efficiency.
Dyson's Pure Hot + Cool
Are you interested in keeping a small area of your home warmer?
Sleek-looking and impeccably engineered, Dyson's impressive (but pricey) all-in-one heater, fan, and air purifier is an excellent device for making the air quality in your home healthier and more comfortable.
It can simultaneously heat a large room and remove impurities from the air via its built-in HEPA filter. Dyson is well respected for innovative, savvy home devices and products.
Dyson's Pure Hot + Cool features technology circulates warmer, cleaner air more widely than most purifiers and simple space heaters.
Because it's wi-fi-enabled, you can control it with your voice on Alexa or from your fingertips on your smartphone or tablet. This is the most expensive gadget on this list, but you may also find it does more for your home than any other item.
Sharper Image's Wi-Fi Ultrasonic Humidifier
Using the heat more during the cold winter months produces dryer air in your home—and all the discomforts associated with it. You can feel the overly-dry air affecting your skin, your lips, and even the way you breathe.
Humidifiers can help fight off those effects and improve the comfort of a home in winter.
And with this Wi-Fi-controlled Ultrasonic Humidifier from Sharper Image, you can better monitor and regulate the amount of humidity in your room through your smartphone. One device can humidify a room up to 500 square feet, providing outstanding coverage and reducing the negative impact on your skin.
Qsun
Our final recommendation doesn't heat a room or improve air quality. But it just might help you feel better—literally—during the winter.
Given the short, dark days, and lower UV exposure from the sun, too many of us find ourselves in glum moods during the winter. And some people suffer from Season Affective Disorder due to the lack of sunlight.
Qsun is a wearable device to help keep track of your exposure to sunlight and even helps monitor your vitamin D levels, which contribute to improving your mood.
By connecting to your smartphone, Qsun provides useful data about the amount of UV and sun exposure you receive. It helps you stay healthy and happy during the darker days of winter. It's also useful for the summer when too much sun can cause you different health issues. Qsun can even remind you when to apply and reapply sunscreen!
The above suggestions are just a few of the smart gadgets available to help keep you warm and comfortable during the coldest, driest parts of the winter season. And being connected to the fast Fiber internet gives you more control over the comfort and warmth of your home than ever.
Be sure to follow our 's social pages for more helpful tips on creating a smart home and making the most of your high-speed fiber internet.
Smartphone Apps Every Pet Owner Should Have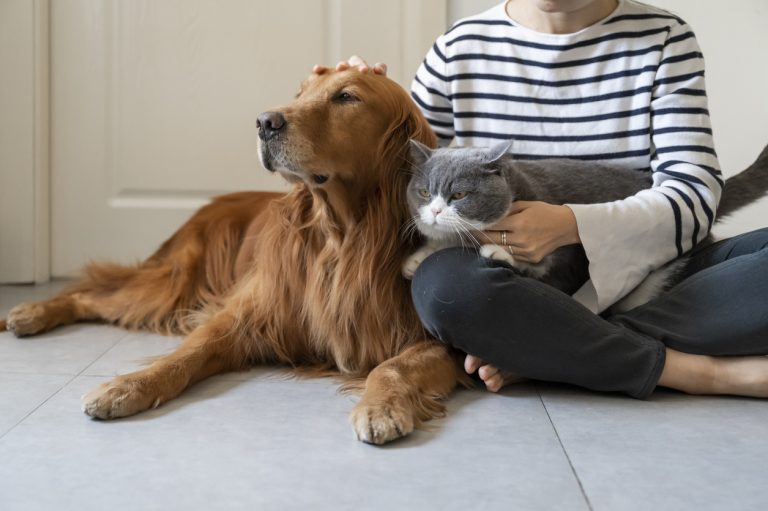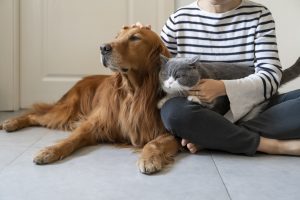 [2/8/2022] Dog and cat parents are a special breed. We just love our canine and feline companions, and see them as part of the family. Like any other family member, we simply want the best for them.
Did you know there is a whole world of information and helpful tools available as apps for your smartphone and tablet to help you be a better pet owner and improve the quality of life—and quality of time—you have with your pets?
Well, with our high-speed fiber internet and the handy apps we recommend below, you can stay better connected to your pets' health and well-being!
We break down our list into several categories below to help you find the apps you need the most.
General Pet Health
Pet First Aid—American Red Cross: This free app, created by the American Red Cross, offers crucial first aid guidance for pets, including cats and dogs. It's the go-to app for cat and dog urgent health and medical care needs.
AskVet: Looking for more personalized health care advice for your pet? AskVet's customizable features tailor health and wellness tips to your individual pet and its needs.
PetDesk: PetDesk is a great way to keep all your pet's medical, health, and dietary information and needs in one place. It gives you reminders for medications, and helps create appointments at the vet, even coordinating with many participating veterinary offices for scheduling.
Toxins and Other Dangers
Petoxins: If you're like many dog owners, we know your dog loves to chew on…well… everything. Petoxins is a convenient and informative app to keep on hand to help identify dangerous plants your pets may have consumed, and what steps you should immediately take to help them.
PupTox: Another useful app for helping detect poisonous and toxic materials your pet may have ingested is PupTox. It covers many common household chemicals and dangers and unlike Petoxins, it's available for both iOS and Android.
Training
Dogo: With a built-in "clicker" to facilitate your dog's learning, Dogo offers adaptable training programs and exercises to help your dog become more obedient and better behaved. The "quiz" available at the start of the app helps customize the training regime specifically to your dog's current age, behavioral issues, and training progress.
Puppr: Puppr offers step-by-step photos and videos and other tools to help improve training outcomes for your canine companion.  You can also choose and bundle different features according to your training needs and your dog's development.
Other Helpful Pet Apps
BringFido: If you frequently travel with your pet, BringFido can be a lifesaver. It helps you find hotels and other overnight-stay options that are pet friendly. Over 250,000 locations are currently in its network, so you are sure to find a place to stay that will accept your companion and make everyone feel at home!
Rover: From pet-sitters to dog-walkers, Rover can help you identify reliable, caring, and enthusiastic service providers for your pet. It also has an awesome GPS feature, which let's you track and view your pup's walk in real time!
We hope you've discovered something new in this little roundup! Remember to contact us to get the speed you need to power all your favorite apps and smart home devices. Because at DayStarr, we're proud to keep your whole family—including those with paws—connected.