Smart Devices for Senior Safety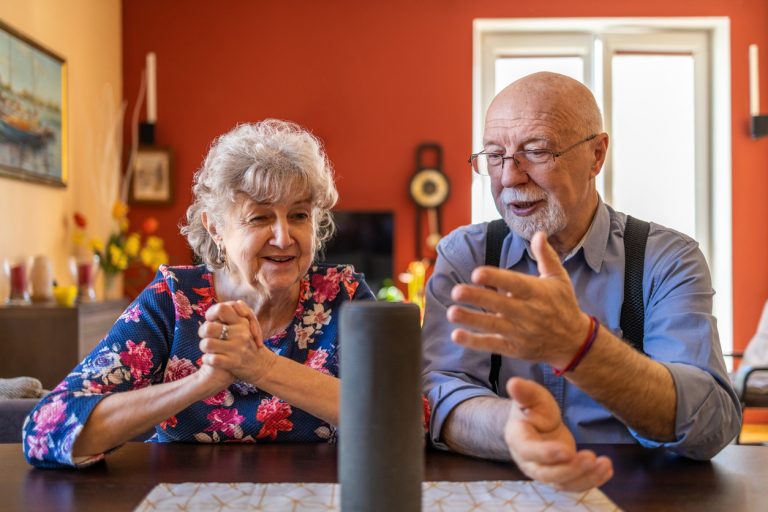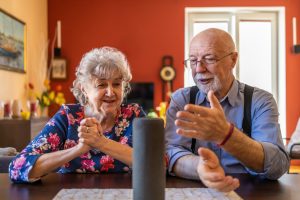 [8/17/2021] As we age, safety and security tend to become our number one priority. But aging in place isn't always easy. That's why many seniors are turning to smart devices to help themselves and their loved ones feel more secure at home.
Smart Devices for Seniors
Smart home devices can be an invaluable asset and an extension of your in-person support network. We all need a support network—mental, physical, and emotional—but this need becomes particularly pronounced as we get older. We start to encounter more issues with vision, hearing, stability, strength, and memory, but that doesn't mean we're ready to give up on independent living. That's why having in-home smart devices can be such a boon for older adults. These devices include built-in speaker systems, cameras, smoke and CO2 detectors, locks, lights, and so much more.
The best part about smart devices is that they can be controlled from almost anywhere in the house using voice commands. If there is a smart speaker device in the same room, you can use your voice to control the system effortlessly. Alternatively, smart devices can be operated remotely using an app. The app can be used by anyone with the owner's permission. This effectively allows other members of the support system to check on the home and their loved ones inside.
Security
Say, for instance, that you're away from home on vacation but are concerned about the security of your home. With smart devices like exterior cameras, a smart lock, and a smart security system, it's incredibly easy to look in on the house, review security footage, and check the lock. Or maybe you forgot to set the alarm system before leaving. Well, with a remotely accessible security system, you can easily program the alarm from wherever you are.
Voice Assistance
With smart speakers and voice assistants like Siri and Alexa, you have total control over your home, just using the power of your voice. You can use voice assistants for simple, everyday tasks like playing music, compiling a grocery list, or calling your children. You can set alarms, look up recipes, and even set up scheduled reminders for your medication.
Smart Lights
When pairing your voice assistant with other smart devices like smart bulbs, you can even control the lights. With smart lights, you can turn the lights on and off with a simple voice command or the press of a phone button and even program the lights to follow a pre-programmed schedule.
Smart Thermostat 
Another incredible innovation in smart home devices is the smart thermostat. Using your remote device, you can easily adjust the temperature to suit your preference. That means no more waiting for the air conditioning to cool the house down when you return from out of town or fumbling with the thermostat in the middle of the night.
Aging may not be for the faint of heart, but smart devices can make it easier. To operate smart devices in your home, all you need is a little patience and a working high-speed internet connection from DayStarr Communications. Don't miss out on all the opportunities and benefits home smart devices can provide!
VoIP vs. Landline: What's the Difference?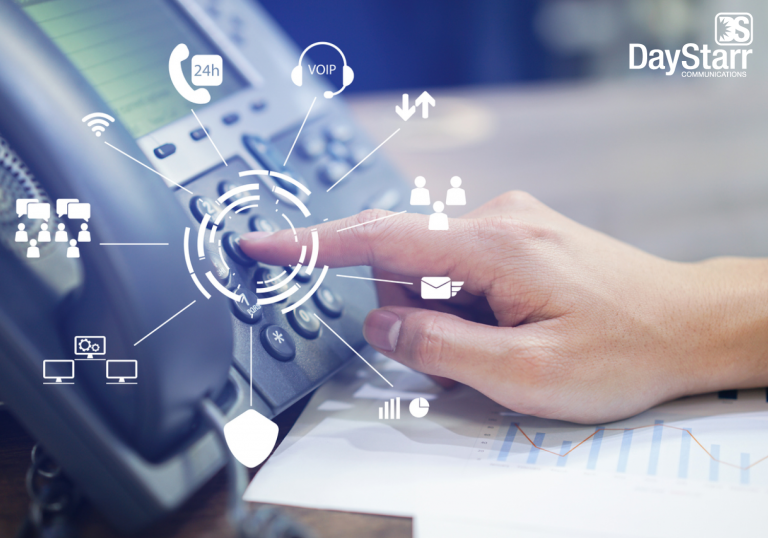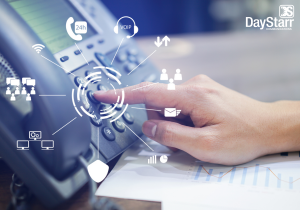 [8/4/2021] At DayStarr Communications, we're proud to offer VoIP services to keep you connected. But if you've never used VoIP before, you may be wondering what it is and how it differs from a traditional landline phone. We hope this article answers your questions and helps you make an educated decision for your telephone needs!
Defining VoIP and POTS
VoIP stands for "voice over internet protocol" (or voice over IP). It's a method that utilizes certain technologies to deliver communications over IP networks. In layman's terms, VoIP allows you to send and receive phone calls via the internet.
Unlike traditional telephone systems (sometimes called Plain Old Telephone Systems, or POTS), VoIP doesn't use twisted-pair copper wire to transmit signals. Instead, these phones are plugged directly into a computer or router, allowing them to use the same broadband connection that powers the rest of the internet-operated devices in your home. When you use VoIP, there's no physical exchange of sound waves through wires as there would be when using POTS.
In essence, VoIP is a phone line gone digital. Because it uses internet connectivity to operate, VoIP can offer innovative features that many customers make their daily communications more streamlined and productive.
Fantastic Features
VoIP gives customers unparalleled control over their operations. Some of the features you may get with VoIP can include:
Automatic call forwarding. You don't have to be at your desk to receive calls! VoIP can redirect calls to your Wi-Fi-enabled device, wherever you may be.
Voicemail to email. Your VoIP system can create audio files out of the voicemails in your inbox and email them to you so you can access them on any device.
Three-digit dialing. You can pre-program essential numbers with a three-digit code for fast, easy access.
To learn more about the features we provide at DayStarr, you can contact us or visit our website.
Why Choose VoIP
In addition to providing useful features, VoIP is incredibly fast, and you can place and receive phone calls without any additional hardware. But perhaps the biggest draw of VoIP is its low cost. Because all calls are directed via the web, VoIP is a much more affordable telephone solution than a traditional landline—especially when you compare the cost of the extra features.
To run VoIP, all you need is an internet-enabled device like a desktop, laptop, cell phone, or tablet. However, if you're more comfortable with a traditional landline phone, you don't have to give up your desk phone just yet. It's easy to get an internet-enabled desk phone that has all the benefits of a VoIP system while maintaining the familiarity of a landline system.
While many VoIP users choose it for business purposes, it can just as easily be used for residential calls. It is a perfect solution for those who regularly travel, people who are often away from home, or those who simply prefer the simplicity of internet calling.
To learn more about our VoIP service—and the strong, reliable internet service that powers it—visit our website or contact us at 989-720-6000 We're here to serve you!