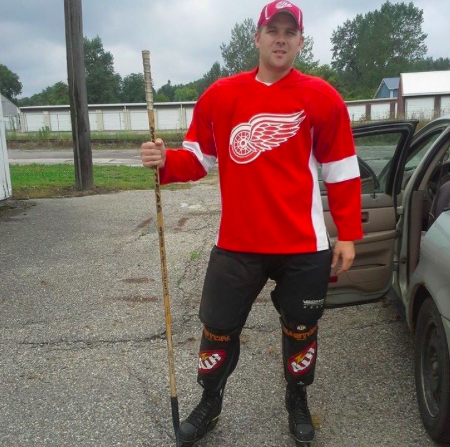 [4/1/2018] Nick Spannagel is the cloud-based (VoIP) business phone guru at DayStarr. If your business is looking for reliable phone service, Nick is the one who will help determine what you need, manage the install process, and answer any troubleshooting or configuration questions. While that may sound a little boring, Nick is pretty important in keeping your phones ringing all day with new clients! He also manages the day to day operations of DayStarr's Metaswitch, the hardware and software which handles all of our phone calls and phone services.
Nick has been with DayStarr for over a year now. When we asked him what his favorite part of working here was, he got a little nerdy. He said, "My favorite part is getting to work with the latest and greatest technology and being at the cutting edge of our industry." – We promise we didn't pay him to say that!
As a Michigan native, he moved around quite a bit while being stationed onboard a submarine in the Navy, before settling in Owosso. He and his wife, Nikki, purchased a home here last summer.  When asked what he loves about our community he shared, "I love all of the small businesses that we have here in town. There are so many local choices for whatever your needs are."
While the Spannagels don't have a lot of free time outside of working and taking care of their four kids – Anders (8), Mason (3), Brooklyn (2), and Oliver (4-months), they do love to take advantage of all of the outdoor adventures Michigan offers. They enjoy all four seasons and try to go fishing, camping, hiking, ice skating, swimming, snowmobiling, and four-wheeling as often as possible.
Besides taking family adventures, they are also quite the hockey family. Nick is heavily involved in the Corunna Hockey program. He plays in an adult league in the spring, coaches a high school team, and referees. His 8-year-old already plays in the hockey league, and his 3-year-old will start next year!
If you see Nick around town, be sure to introduce yourself and ask him your most burning VoIP questions!
[4/1/2018] CLH Insurance (most commonly known as Cadwallader Lord Hahn) has been serving its customers faithfully since 1903! CLH started out as a family-owned business, and while they have expanded significantly over the last century, they still put their people first – whether that's their customers or their staff. The firm is well-respected and known for high-quality service, honesty, and reliability. CLH employees serve on many community boards and committees and are the first to volunteer for fundraisers and community events.
Mike Ardelean, CLH President, is a former Citizen of the Year, an award given out by the Shiawassee Regional Chamber of Commerce annually. In a recent interview, Mike shared that CLH loves to do business with local establishments and to give back to the local community. Their commitment to serving their customers well is one of the reasons they choose DayStarr for their internet service.
The CLH team relies on fast and reliable internet speeds to deliver on the promises they have made. Mike shared, "The fiber [internet] is irreplaceable for our business. The longer we have to watch a screen change is time for our people and money it costs us. [Our business] lives by the internet."
DayStarr and CLH work together to ensure CLH has the technology solutions it needs to be successful. CLH values — and relies heavily upon — DayStarr's fiber internet so its phone and online services are not interrupted. Because relationships are so valuable to both organizations, it's been a win-win "connection!"
[4/1/2018]  Frustrated with the hassles of cable TV? You're not alone. Streaming continues to rise in popularity as the preferred choice for online programming. Today's consumers demand the flexibility and consistency streaming offers. People are no longer willing to wait for prime-time scheduling or deal with the frustrations of inconsistent cable service.
So, what's the key to gaining access to hundreds of shows at the drop of a hat? A reliable high-speed internet connection. Before we dig into that, let's take a closer look at the benefits of streaming, who the top providers are, and how you can successfully cut the cord.
Benefits of Streaming TV
If you're not yet convinced streaming is the answer, here are a few of the main benefits consumers love.
Watch what you want, when you want:

You no longer have to tune in at a specific time (or day!) for a specific show.



Binge watch your favorite shows:

Watch as many episodes as you want, whenever the urge strikes you.



Any device you want, anywhere you want:

Enjoy your favorite shows, no matter where you are, on the device of your choosing (phone, tablet, computer, laptop). In the car (passengers only!), in the doctor's office, or lounging on your couch. Where you go, your shows go.



Save money:

Don't pay for shows you're never going to watch.
Choose the Provider You Want
A few years ago, there were only a handful of players in the streaming game. Today, more and more providers are emerging. One of the best ways to determine which option will offer you the shows you want, at your target price, is to use a comparison tool.
The tool we currently recommend is Untangle – a cord-cutting website designed to help you select your ideal streaming service. Untangle's questionnaire will have you select your preferred network, shows, and viewing times. The site will then analyze your choices and generate the best and most affordable streaming options. Keep in mind, Untangle does not adequately cover local channel options. However, YouTube TV, Sling TV, and DirecTV each offer a selection of local channels.
DayStarr is currently creating our own comparison tool that will enable you to compare providers and devices. We will announce once the tool is available.
The most popular providers include:
Still not sure which provider is best for you? Most offer a short trial you can use for free before you commit.
Your Key to High-Speed Internet Access
If you live in Owosso or the surrounding area, DayStarr's fiber internet will keep your favorite shows streaming, all day and all night. DayStarr offers the most advanced technology for streaming and has the expertise you need to enjoy a seamless experience.
Specializing in helping consumers cut the cable cord, DayStarr offers the best internet in the area through our growing fiber network. More than 2,000 customers currently have access to our fiber internet. If you're not in our service area today, don't worry – in the next few years, we plan to reach the entire city of Owosso and several neighboring areas.
Want to know if you qualify for DayStarr's fiber internet? Check out the Service Availability Tool on our website!
Need More Info?
Still unsure why streaming is such a big deal or what it means for you? Check out these helpful resources!
Owosso Becoming "Gig City" with New Fiber Technology
Cutting the Cable Cord: Discovering the Benefits of Streaming
Shared Blog Post: Streaming vs Downloading
[4/1/2018] On a dreary winter day, we had an idea. To celebrate the Winter Olympics by engaging in our own talent competition (and we use the word "talent" very loosely here).
Our games began on February 13th and ran through the 21st. We filmed our "friendly" competitions and posted the videos on YouTube daily. Our mission? To have a few good laughs, brighten our employees' week, and introduce our team to the community in a unique way.
DayStarr is known for having a positive and rewarding work environment, but we knew this was an excuse to have even a little more fun than usual during the long Michigan winter. And let's be honest, DayStarr team members are willing to do pretty much anything to win a package of candy (the highly coveted prizes for medal winners).
To get a peek into the action, watch the first event: the Lineman Bolt Toss. Want to watch the entire series? Tune into our YouTube Playlist.  
So, who were the teams?
Athletes of the Township

Out-County Outcasts

City Slickers

Eastsiders
If you think our team names were creative, you should take a look at the events:
Lineman Bolt Toss

Deposit Slip Tally

Tri-fold Triathlon Event

Crawlspace Biathlon

Great Egg Slalom
The contestants proved to be multi-talented and tackled every event with heart, commitment, and a whole lot of confidence. No participation awards were given. Congratulations to the City Slickers for reigning supreme and snagging the overall Gold Medal!