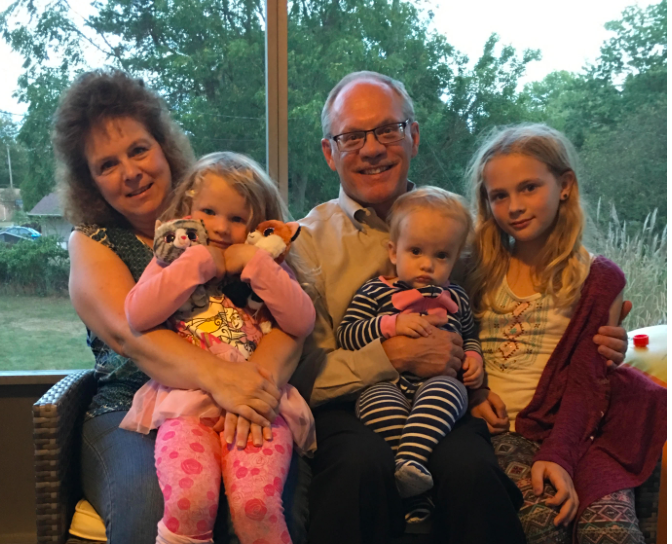 [11/22/2017]  This quarter, we are shining the spotlight on someone who loves to be the center of attention – Mark Hudson. Mark is DayStarr's Sales Director and has been a vital part of our team for the last 12 years. He spends his days meeting with local businesses to offer advanced phone and internet services. As a people person, Mark enjoys spending time with the DayStarr team and getting to know the residents in the communities we serve.
When we asked Mark what he thinks he is known for in the office, he replied, "I am clearly the serious, artsy, intellectual type. All business." As you can imagine, our one complaint about Mark is that he has no sense of humor. Ha!
As a Michigan native, Mark and his wife Nancy live in Fenton. While it is a bit of a hike to Owosso every day, they embrace the communities they live and work in. Together, they have four children and ten grandchildren whom they adore.
Mark enjoys spending much of his free time serving at the Presbyterian church at Hurley Medical Center, where Nancy works as a nurse. When we asked him what he loves about his role there, he shared, "I love teaching, preaching and helping people. I thoroughly enjoy reading theology and history. In fact, right now I am reading and preparing messages on the Reformation (Martin Luther, John Calvin, etc.)." He is definitely a man who uses his time well!
When he isn't working or volunteering, he and Nancy enjoy visiting places with historical significance. Pair that with good camping and beautiful weather, and they are in their element.
[11/22/2017]  Davis Cartage Co. is a family-owned regional warehouse and transportation company. Since 1941, they have been known for their high-level of service and smooth logistics standards. They offer same day and next day delivery within Michigan and the Great Lakes region, including Canada! Talk about impressive.
We had a chance to sit down with Glen Merkel, President & Chairman of Davis Cartage, and he shared with us that if they lose their internet connection, business is basically dead.
Given that their trucking division sends out 40 truckloads per day and 98% of their business is done over the internet, it's pretty important that they have reliable internet services. Their staff relies on the internet to obtain customer orders, communicate with truckers, and ensure timelines are met.
The team at Davis Cartage has been fantastic to work with, and we appreciate their enthusiasm and desire to get the most out of their internet service. As a big supporter and reliable employer to our local region, it's companies like theirs that make a lasting impact.
Be sure to watch their testimonial video and visit their website for more information!
[11/22/2017]   2017 has been a year for the books. We have surpassed our record for both residential and commercial internet installs this year, and we are pretty happy about it!
This year alone, our DayStarr team has placed more than 35,000 feet of underground cable and 35,000 feet of aerial cable. Not to mention, we've added more than 500 new customers! This year's progress has positioned us to provide DayStarr services to an additional 1,000 additional new customers.
Because we love good news, we also want to share that we have officially completed SC6! 360 residents in the area north of King Street, between Hickory Street and Dewey Street, are now eligible for DayStarr Services. If you have questions, don't hesitate to ask.
We are incredibly thankful for both our loyal and new customers who enable us to do the work we love! We'd be remiss if we didn't give a hearty thank you to our entire team for all of their hard work to make these installs possible. Here's to hoping 2018 is an even better year!
[11/22/2017] One of the best ways to spark the spirit of Thanksgiving is to step outside of your routine and do some community service. Our staff had a wonderful day helping SafeCenter and the Shiawassee YMCA with beautification and clean-up projects on Nov. 10. Even though we were there to support them, we couldn't help but notice the experience had a positive impact on the DayStarr team. Thanks for letting us lend a hand so you can stay focused on meeting your missions!