[Newsletter 6/6/17] You can thank your lucky stars that your internet speeds aren't tied to how quickly the DayStarr team can run!  A big thank you to all of our friends and family who came out to support us for the race!

On June 3rd, several of our team members put up a fierce competition at the YMCA Curwood Festival Run. Aaron Lobb and Nick Spannagel ran a speedy 5k while Collin Rose and Casey Rose both decided to go crazy and ran the half marathon. While they didn't set any records, they were pretty excited to receive their participation awards!
Several members of the DayStarr team enthusiastically passed out Fiber 1 protein bars to race participants. Unfortunately, these fiber bars don't speed up your internet, but at least they taste good!
Thanks to everyone who participated in the race, donated, and cheered exuberantly from the sidelines. This race is a great event and a fun way to support our local YMCA while getting out in the community. Not to mention, it gave us a good excuse to pig out afterward!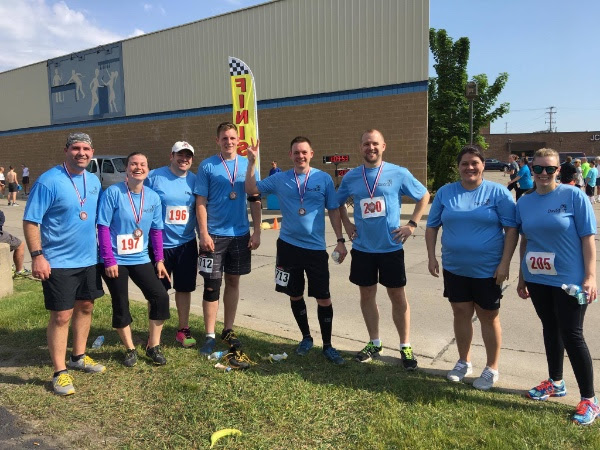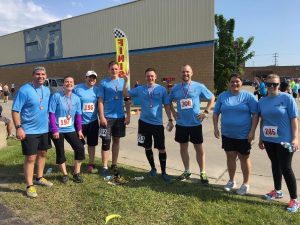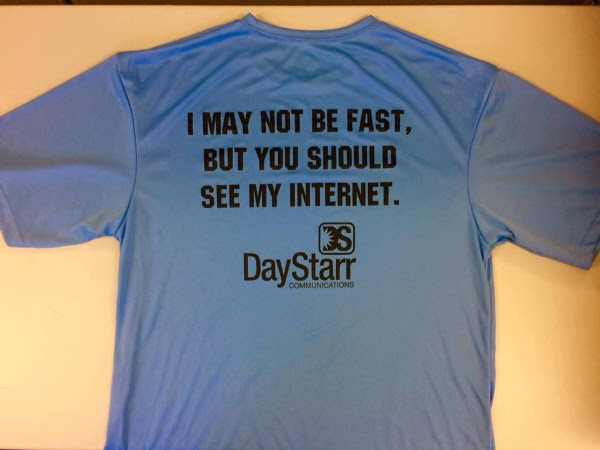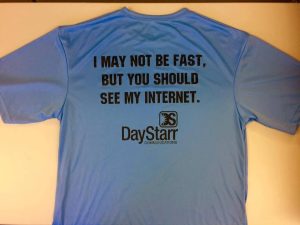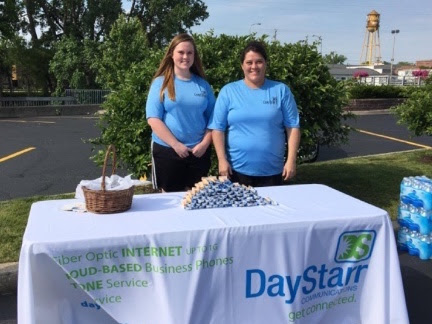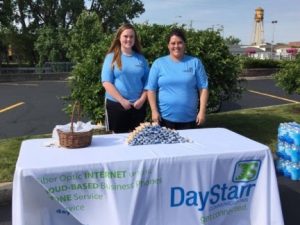 [Newsletter 6/6/17] The Owosso Community Players (OCP) has been a loyal customer of DayStarr since 2005. OCP manages all of their bookkeeping, research, and ticketing over the internet. Kathy Brooks, the Executive Director, shared with us that given the importance of high speed and reliable internet for their productions, their partnership with DayStarr has been crucial to their success.

Kathy expressed, "My favorite thing about DayStarr is the service." She went on to explain that she loves that she can pick up the phone, make the call to DayStarr, and have someone there within minutes! She shared that knowing somebody is there locally makes all the difference in the world.
Today we are featuring a testimonial video from Kathy and the OCP. Check it out!
As a cornerstone of our community, we believe it's important to support the OCP. It's when organizations like theirs invest in the community and choose to partner with local businesses, that companies like DayStarr can succeed. Not to mention, our community is so much richer by having the OCP in it!
Later this month, the highly acclaimed and beloved Broadway musical comedy, Sister Act, is coming to OCP! Showtimes are: June 16, 17, 23, 24 at 8:00 pm, and June 18 and 25 at 3:00 pm. To reserve your tickets, visit the OCP website!
[Newsletter 6/6/17] Our Fiber Crews are steadily working through Shiawassee County to bring residents and businesses the fastest internet available. While it may seem like progress has been slow, remember that because of fiber's amazing benefits, it takes awhile to digest!

New Network Construction:
Our main area of focus in developing a residential internet network that is better, faster, and stronger is in the City of Owosso. We are expanding other communities in the county for business services. You may have seen our crews out and about working, so we thought you might be curious about what we are accomplishing!
In the city of Owosso, we are about to finish installing fiber optic internet in what we call SC7 (splitter cabinet 7). This is the area north of King Street and east of Dewey Street (highlighted in white). After this project is complete, our crews will be working on SC6 (splitter cabinet 6, highlighted in red) which they hope to finish in August.
In the near future, we will expand on Grand River Road east to State Road and go north and south half of a mile.
We recently added additional cable in Perry going east on Lansing Road out to Bennett Drive. This will expand our business area in Perry. DayStarr fiber internet has started to be installed in the communities of Owosso, Perry, Durand, Ovid, Laingsburg, Corunna, and St. Johns.
So far 2017 has been a record setting year. Our team has completed more than 120 residential fiber installs, and more than 25 new business fiber installs. We are on track to hit our goal of installing 500 new residential customers, and 100 business customers this year. Last year we did a combined total of 260 installs, so we are quite pleased with the level of progress this year. We hope you are too!
Can't remember what all the hype is about fiber optic Internet? Here are a few reminders:
Need for Speed

: 1000M or fiber optic Internet technically means that you are downloading 1,000,000,000 bits per second. That is 100 times faster than the average Internet speed in the US.

(Please note: This is our faster residential package, we also offer packages with speeds starting at 100M, which is still faster than most starting cable packages.)

Quick Downloads:

Stop wasting your time while you wait for something to finally finish downloading. Downloads with 1000M are so quick, you won't even have time to take a break and get a snack.

Say Goodbye to Buffering:

Everyone hates the spinning circle of death. Buffering is the worst, and with fiber, you should rarely, if ever, have to endure the annoying delays while streaming a video.

Internet Wars be Gone:

Is there a constant battle in your office or home over who is hogging the internet? Fiber allows simultaneous usage of multiple devices (Streaming on 10 devices at once without delay or buffering). Enjoy a new level of peace in your life.
As we get into the heat of summer, our crews will be busier than ever! Be sure to say hello if you see our trucks out and about!
Curious how you can get fiber Internet at your home or for your business? Contact us today!
[Newsletter 6/6/17] To make sure you know this isn't fake news, we are keeping our DayStarr update rather boring. The big news around here is that we have implemented a new billing process (Woohoo!) and we've launched a fancy new website.
So why does this matter to you, our faithful customer? Well, hopefully, it will make your life easier! (Maybe not SO boring!)
Bills, Bills, Bills
Previously, we handled all billing in-house, which required some of our staff to maintain the system. Despite the tremendous enthusiasm in which our staff handled billing, we decided that it was better to outsource this task so we could concentrate on more important things (you!).
The updated process offers a new bill format, more flexibility to customize your bill to include or exclude details, consistent auto-bill payment options, and an all-around nicer electronic billing experience. Try it out and let us know what you think.
Time for a Facelift (Not You)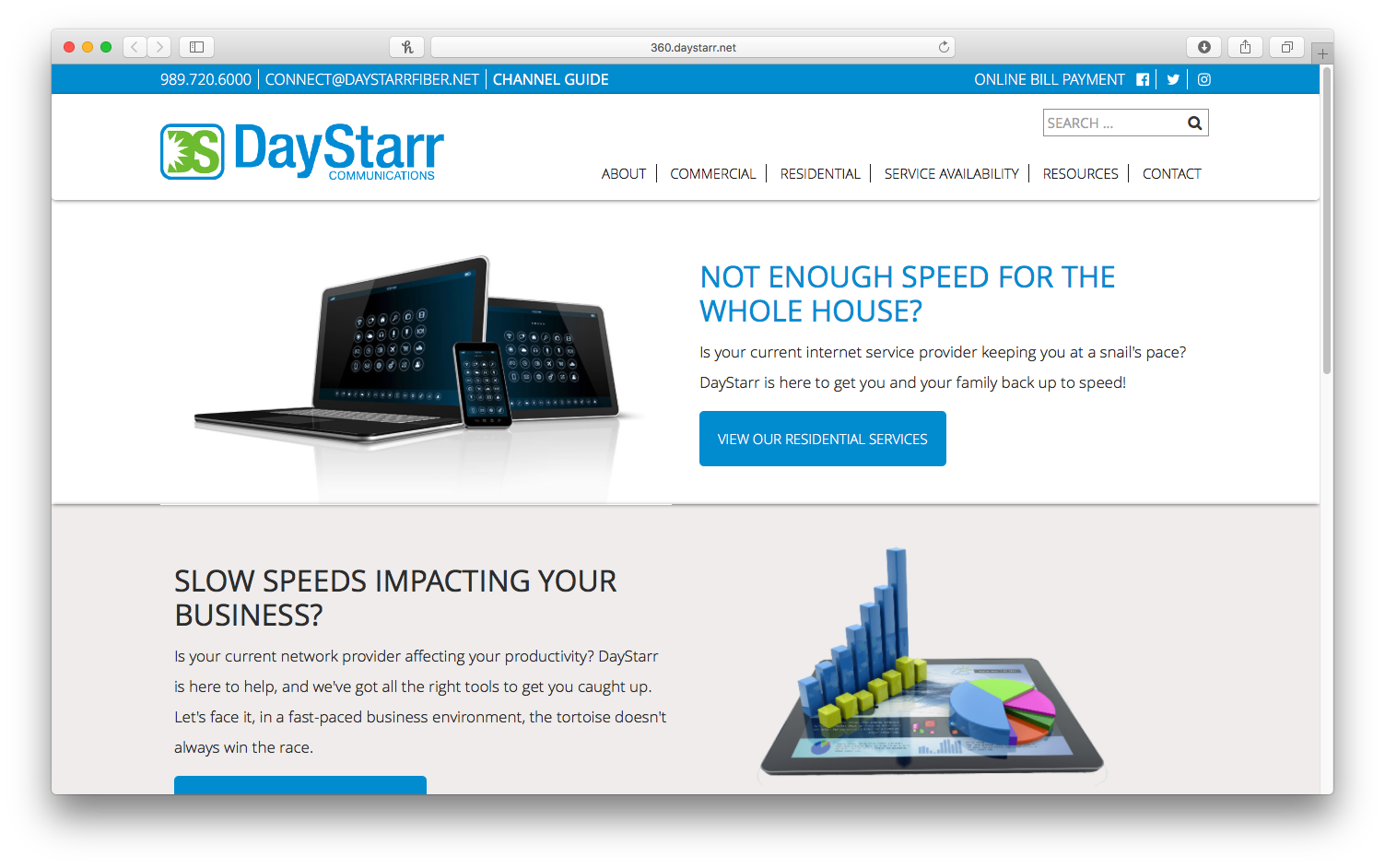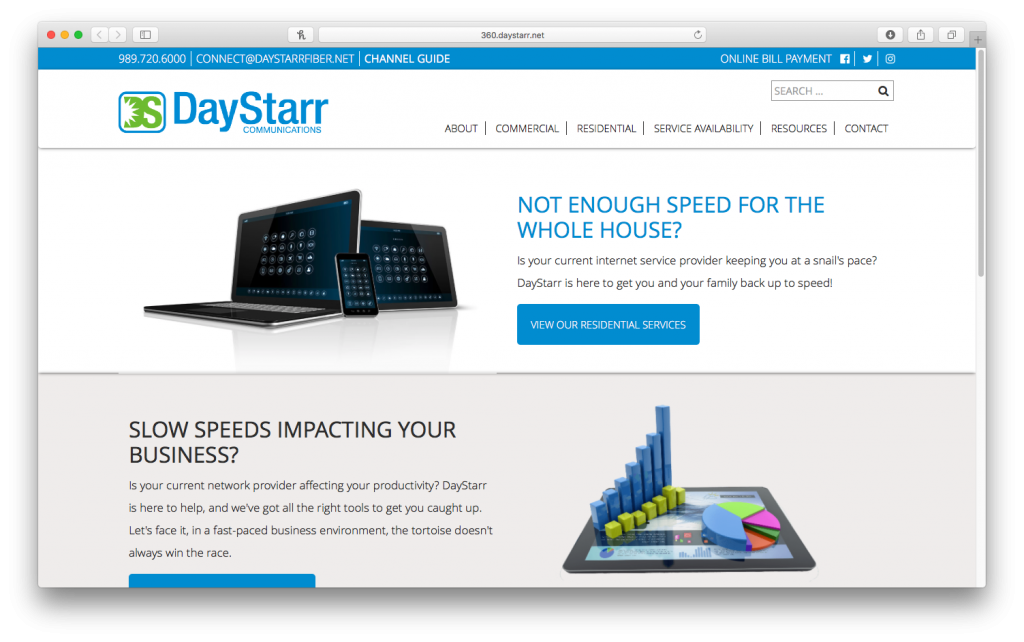 Given that we are striving day in and day out to build a cutting-edge Internet network, we felt that it was time for our website to look as modern as we feel!
The new site has been refreshed and restructured to represent the direction of the company better. More importantly, it is organized in a way that is more functional, enjoyable to use, and easier to find the information you are looking for!
A few things you can find on the new and improved site:
A service map that shows where our current service availability is.
Lots of great resources like an Internet speed test, a TV channel guide, and industry articles.
Online bill payment that makes your payment experience painless!
Funny (and ridiculous) videos of our staff, and super generous testimonial videos from our fantastic customers.
Have comments? Contact us today!